Newsletter Autumn 2017
Iris ensata 'Rowden Knight' seen at RHS Rosemoor during our 2017 Garden Tour in June
Contents
From the Chair…
We've been blessed by the most glorious of autumn days this year. There's been time to get out in the garden and get on with a never-ending list of jobs.
For me though, 2018 has often been a time of having to let the garden get on by itself. Demands on my time plus a few health issues have meant I've not had the time to devote to my small acre of Worcestershire that I'd have liked. With luck, next year will be a different.
Becoming chairman of our group in March was not what I expected when I joined HPS five years ago. I'd spotted the group's stand at Malvern and was persuaded to try a few meetings as a visitor before signing up as a full-time member. And the rest, as they say, is history.
One thing's already clear from my brief time in office – we would not be able to function without volunteers. Lots of our members have volunteered in the 20-odd years that we have been around but I'd like to encourage you all to think about putting yourself forward to help us run the group. To put it bluntly, we may begin to struggle if you don't…
I love being part of this group. I love the fact that we are united in our love of plants. And I really love it when we band together.
Look back over just the last 12 months – we've won a silver-gilt at Chelsea and been seen on BBC-2 by nearly two million people. We've hosted a record-breaking plant sale in June. We've had the immense pleasure of a garden tour around some truly wonderful gardens. We've had a Celebrity Lecture, headlined by our own President Roy Lancaster, for around 150 people from around the UK - and all run by our volunteers. And that's on top of our normal, busy schedule.
My genuine thanks to you all, however you've helped. So, please, come and join us. The water's fine.
Our Story So Far
This is our HPS story so far. We joined Worcestershire HPS in 2013 and we were approaching horticulture and plants for the garden from a different aspect.
Both of us have very rural backgrounds and know the price of a potato and how much a kilo of beef is worth.
The group initially seemed quite threatening with everyone seeming to know so much about plants that we had never even heard of, let alone seen. We did, quite rightly, get reprimanded for giggling during one session!
It took us a while to feel part of the group but as we moved gingerly forward we baked a cake for one of the monthly meetings and then served teas.
Then came the chance to help at one of the events we held at Pershore College – car parking duties and serving refreshments.
Onwards we went and were plucked from obscurity to help at the RHS Malvern Spring Festival. We began to feel quite important and thought we had arrived – we were definitely taking false credit for the gold award, basking in the attention from the general public and, amazingly, gaining more knowledge and answering questions. We'd really learned quite a lot.
The occasional odd thing happened though, like we left the kettle pouring out steam from under the table. Why were so many people staring in the same direction?
Then came our big break – we were asked to join the team at the 2017 Chelsea Flower Show for the 60th celebration of the Hardy Plant Society. We really did feel important – new green apron, smartphone with a QR scanner app and, after a few rehearsals, we were quite proficient.
I remember Chelsea week had temperatures of about 30C plus so there was plenty of hot air about. You can't say it wasn't tiring but it was a once in a lifetime experience. The general public were wonderful. So, come on in and join us. The water's fine!
A Dream Comes True - The Glories of South Africa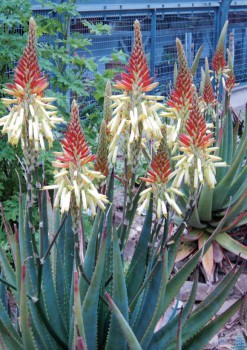 A lovely aloe
growing at Stellenbosch
My desire to visit South Africa to see for myself the Cape Floral Kingdom was finally realised this year; my interest has developed over a lifetime, fired by magazine articles and holiday brochures containing photographs of mountains covered in a colourful carpet of daisies. As a gardener I have also become aware of the number of plants that we can grow here which originate in the Cape. I would like to share some of the many highlights of my trip with you.
On August 24th 2017 I joined a sixteen day, RHS sponsored tour, with Brightwater Holidays to see the gardens and flora of the Western Cape. The tour included visits to private gardens, botanical gardens, nature reserves, vineyards, a fruit farm plus treks to see the Fynbos growing on the mountains and coastal plains. We were accompanied by two botanists and our Afrikaans guide, Andreas, who was tremendously enthusiastic and knowledgeable about the geology and nature conservation in his homeland.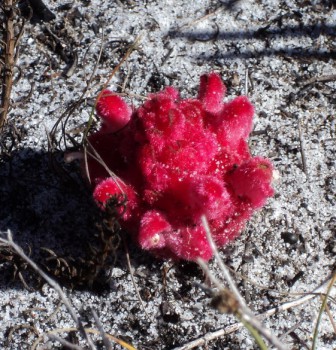 The colourful but weird Scarlet Broomrape
I was interested to learn that the first Europeans to attempt to cultivate food in South Africa were the Dutch; from 1640 they were growing fruit and vegetables in the Old Company Garden in Capetown. Their trading ships made landfall in the Cape en-route to the Dutch East Indies. Scurvy, caused by a lack of vitamin C, was a problem for sailors at the time. The garden is now a botanical garden with many wonderful specimen trees from all over the world. I saw three different types of Strelitzia; one as tall as a tree and another with reed like foliage. Previously I have only known the Bird of Paradise, as a conservatory plant.
While in Capetown we visited Kirstenbosch on the slopes of Table mountain where I saw a Strelitzia named for Nelson Mandela. Kirstenbosch originally belonged to Cecil Rhodes; he donated the land to the people of SA in 1902 and it became a botanical garden in 1930. Here we saw huge borders filled with native South African plants such as the protea. South Africa has a rich flora; the region represents less than one per cent of the world's land surface but may account for 10 per cent of the known species of flowering plants.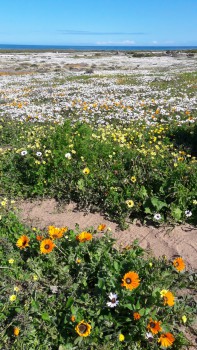 A carpet of flowers in the Western Cape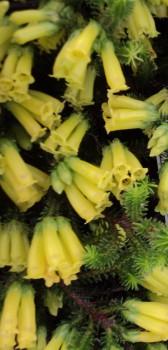 Erica nana
One of the reasons I like travelling to other countries is to see familiar plants that I grow in pots in the conservatory growing wild in their natural habitat; it helps me to understand how to care for them. One day as we returned from the Cape of Good Hope, we were amazed to see hundreds of Zantedeschia growing in profusion all along the verge. Our coach pulled over to the side of the road, we all clambered out, cameras at the ready to photograph the plants. Concerned motorists were soon stopping to ask what we had seen and looked unimpressed when we explained it was the Arum Lilies that excited our interest.
Our visit to the windswept coastal dunes of the Cape Peninsula was a fascinating experience; this exposed area is home to thousands of tiny plants and bulbs growing in white, quartz sand which is acidic and low in nutrients. The plants were like miniature jewels. We saw wild orchids, a mini protea and the colourful but weird Scarlet Broomrape.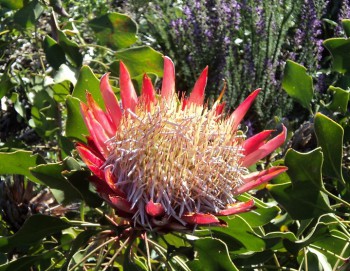 Huge borders of proteas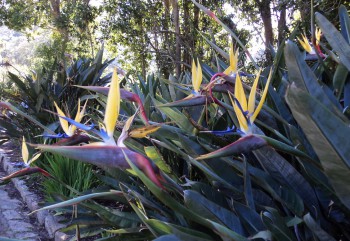 Strelitzia reginae
'Mandela's Gold'
There are nearly 20,000 wild flowers in South Africa and the diversity of flower and form is astounding. The temperature does not sink below four degrees centigrade, so many of our tender, summer annuals such as gazania, mesembryanthemums, actotis and oxalis grow wild in the Western Cape. I saw fields of flowers as I had hoped but evidently they are even better further north in Namaqualand.
We had a walking tour of Fernkloof Nature Reserve near Hermanus, we explored the Fynbos. This is heathland and is defined by the presence of three species: ericas, proteas and restios. These plants all benefit from burning on average every fifteen years. Bulbs remain safe underground but the old plants above ground are consumed and the area then regenerates with new seedlings. We saw some magnificent proteas and leucopermums as well as a lovely yellow Erica and Pelagonium fulgida; I have a collection of pelargoniums; it was interesting for me to see them growing in their natural habitat.
At the end of the tour we visited Stellenbosch Botanical Garden. We learned that it are not well resourced; in a country where many people do not have decent housing it is not surprising that money for botanical gardens is not a priority. The tour exceeded my expectations and I learned so much from the experience. I leave you with a picture of a lovely Aloe growing in the garden at Stellenbosch.
Celebrity Lecture Day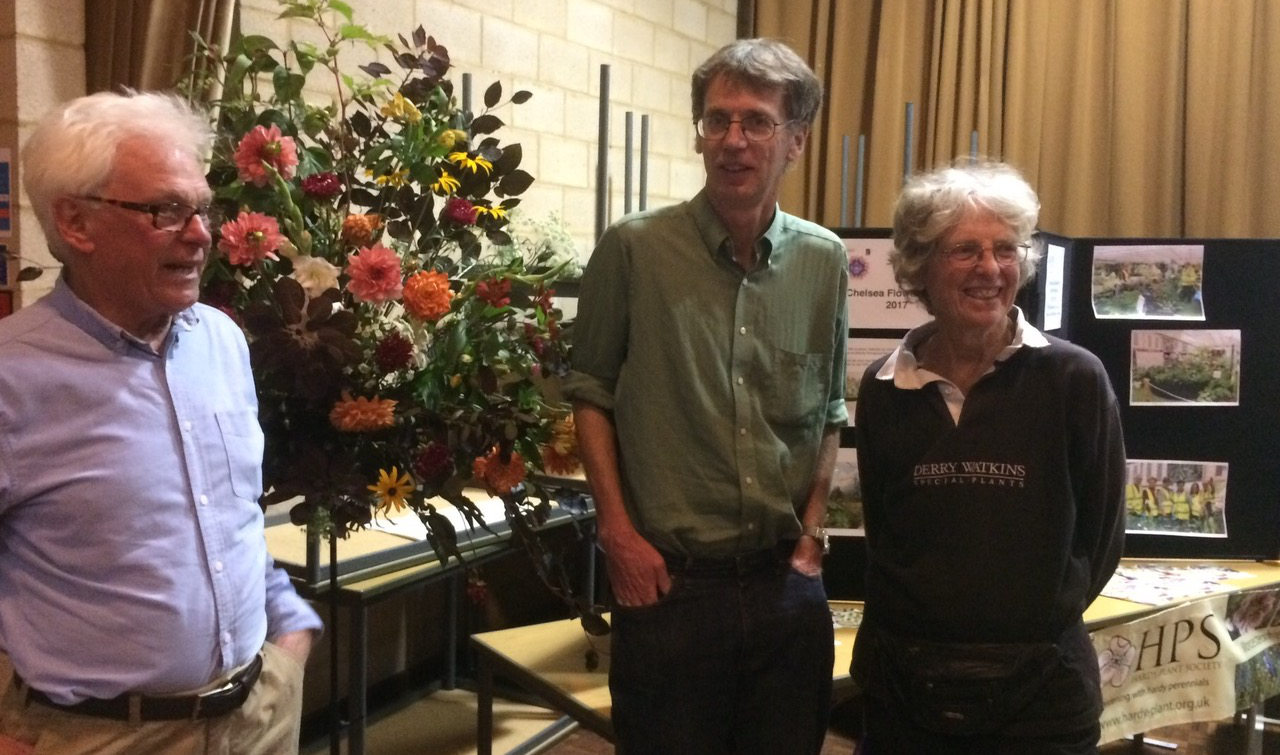 How the Flowers Became - Julian Sutton
Julian began his talk by asking us to imagine what a garden would look like without flowers. There would be the same structure of a garden with conifers, ferns and mosses, but the predominant colour would be green.
It is the seed enclosed within a fruit, formed from the mature ovary, that defines a flowering plant.
Flowers probably first appeared around 140 million years ago, but quickly became dominant as a result of an unexplained proliferation of gene material within their cells. This has enabled flowering plants to remain dominant because of continued diversification - the spare genetic material allowing them to continue evolving rapidly in response to selective pressures such as changes in climate and the reliance on insects and birds in pollination and seed dispersal.
He went on to discuss how genetics governed various evolutionary responses such as the flower tube length, and size, shape and colour of petals among others. As always Julian presents his audience with fascinating insights into scientific topics.
New Plant Introductions – Derry Watkins
Nurserywoman Derry Watkins was scheduled as our second speaker of the morning, and I'm sure there was quiet panic amongst the organisers until Derry eventually turned up about an hour later than expected. When she did arrive, in a van crammed full of plants, it was like being hit by a whirlwind. I was acting as host for Derry and immediately took her upstairs to show her where to put her plants, but was somewhat dismayed at her reaction to the lack of table-top space. No problem – Derry commandeered more tables and re-arranged what had already been set up! It was all hands on deck to get the plants upstairs and into position in time, but it got done.
Derry's talk, entitled 'New Plant Introductions', was more wide ranging than the title suggested. She explained that she would talk about how 'new plants' get introduced and brought into the trade, as well as stories associated with them. At one time all plants were 'new', so her talk and accompanying slides covered old introductions and re-introductions, eg Laythrus odoratus 'Matucana' and Dianthus 'Elizabethan' respectively. Then she broke down the new introductions into wild species, chance sports, selected seed strains and hybridised plants, and the examples shown to demonstrate these groups was wide ranging, including many unknown to me. Thankfully she provided a plant list for us too.
Derry's knowledge and enthusiasm demonstrated why she is one of our leading nurserywomen, and she was not in the least daunted by the extremely large clap of thunder above us during her presentation. In the afternoon Roy Lancaster summed her up perfectly when he said "Derry reminds me of a box of fireworks and everything is going off".
My Life in Plants - Roy Lancaster
HPS President, Roy Lancaster, closed the day. We learned that birds were Roy's first love and his passion for plants was ignited by the chance find of a Mexican tobacco plant, not seen before in Bolton.
An apprenticeship at the local parks department set him on his way, and Roy's interest in fauna and flora grew during National Service in Malaya, from where he sent many specimens back to Europe for identification.
Roy returned to the parks department before securing a place at Kew for further training. Eighteen years followed at Hilliers before Roy turned freelance. After a guest appearance on Gardeners' World, Roy became a regular presenter and it was a nice surprise that former producer, Mark Kershaw, was amongst our audience.
Roy enthralled us with his enthusiastic tales, and it was a joy and a privilege to hear him speak. Time constraints prevented us from hearing the whole story but unsurprisingly, Roy did a brisk trade in his autobiography – My Life With Plants.
If you missed the talk or didn't buy a copy on the day, be sure to put it on your Christmas list. You will not be disappointed!
Why Pay a Fee for National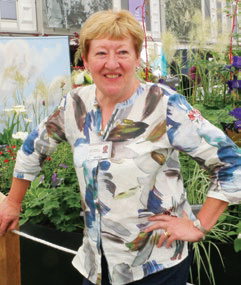 As national Chairman of the Hardy Plant Society, I am sometimes asked two questions by members of local Groups: 'Why do I have to be a member of the national Hardy Plant Society to join a local Group?' and 'Why can't I pay just one subscription for the national and local Group?'
I thought it might be helpful to explain the situation that exists between our 40-odd groups across the UK and the national society in a bit more detail.
Legal status
It is helpful to understand the legal status of the HPS and local and special interest Groups. The Hardy Plant Society is a charity registered with the Charity Commission. This gives us certain benefits and requires us to report to the Charity Commission on the public benefit of our activities. Groups which share a common interest in (some of) the HPS charity objects can register as a Group of the HPS. The registered groups are separate legal entities and importantly they are not charities. Their financial arrangements, accounts, reserves and so on are entirely local matters. Accounts are sent to the office for information, not for approval.
We approve Group constitutions as a condition of registration, but we do not own the Groups. Their liabilities are theirs and their assets are theirs; The Society arranges public liability insurance which covers meetings, outings, plant sales and other activities, but this is essentially 'ex gratia' not because of a formal obligation on our part.
Taxation
Organisations with a turnover exceeding the threshold (currently £85,000) are required to register for VAT. The HPS is therefore VAT-registered and we pay VAT on the subscriptions that are collected. Clearly, the individual groups fall well below the threshold and are not required to register for VAT. It is important to guard against the perception that the Groups 'belong' to the HPS and that they are subject to instruction and management centrally as VAT could potentially be levied on the sum of all of the Groups' subscriptions as well as those of the national Society.
This is why it is vital for HPS to maintain total independence of the Groups and a clear separation of the finances within our current arrangements and it is not possible for the subscriptions to be rolled-up and collected together.
Public Benefit
As a charity, we have to be able to demonstrate that we are delivering public benefit, which is why things like our educational displays at shows, our publications and bursaries are important. The loss of charitable status would mean we were unable to benefit from the reduced VAT on subscriptions from 20% to 8.3%, and we would no longer be able to reclaim Gift Aid.
The Darling Buds of May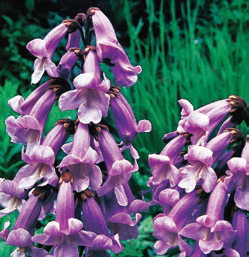 I hope you will bear with me for writing a rather sentimental contribution to our newsletter.
I have always been keen on growing perennials from seed. A few trees have come into that category. I have several varieties of Sorbus, which I treasure and which were raised from seeds obtained from one of our speakers a long time ago.
The talk was about Autumn and Winter Colour in the garden. We were invited to take seeds home with us. We had been shown how to prepare them for sowing and how to look after them to get good germination. That little success inspired me to send to Chiltern Seeds for some seeds of Paulownia tomentosa - 'The Foxglove Tree'. I saw an enormous specimen at Hidcote in full flower - a glorious sight with racemes of seven or eight blue/purple, foxglove-like flowers at end of many of the tree's branches.
Nuseries that could supply a young tree charged a rather larger amount than we were prepared to spend then, so I was thrilled with the ease of germination. Seven or eight of my seedlings were successfully pricked out and potted on the following summer. I kept three and gave the others away.
One survived and after three years it seemed large enough to plant out in its permanent home in our little orchard. Mervyn, my husband, looked up Paulownia in his 'tree book' and kindly announced that neither of us would be likely to see the tree flower. It suggested it would take some 20 years or so from sowing, and he reckoned we would have moved to a house with a smaller garden by then - or be helping to fertilise the soil around it!

Sadly, Mervyn died at the end of April this year. The tree was about 18 years old and was suddenly growing pretty large.

On the morning of his funeral in mid-May, I wandered round our garden - which he loved and spent many hours working in. What should I see but several opening buds at the ends of some bare branches of the Paulownia! How thrilled I was. The sad part of that wonderful discovery was, of course, that Mervyn couldn't see those first blooms. Still, it was a rather wonderful beginning of a day of sadness - and gratitude. That tree will be treasured as long as I remain in our home.
The photographs don't really do this beautiful tree justice. At least you can visit Hidcote in mid-May and hopefully see the specimen in full flower for yourself.
New To Us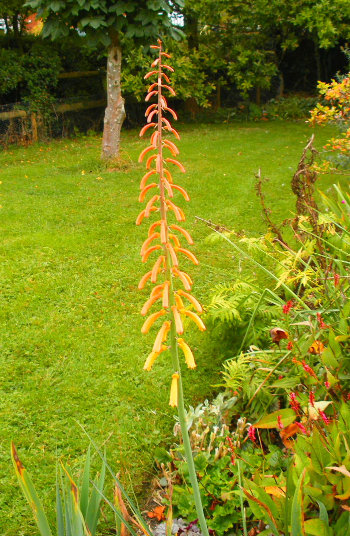 Kniphofia thomsonii
var.
thomsonii
While visiting Keith Wiley's Wildside garden, we came across an intriguing plant with which neither of us was familiar. There were one or two potted up in the sales area, ticketed, I think, as a species kniphofia, and we were delighted to be able to buy one. It found a spot at home in full sun and produced two flower stems in late summer (see photo).
As with other kniphofias, the colours are stronger as the buds open from the top and become paler as they fade and die off further down. The flower colour is orange or apricot with a remarkable luminescence and it stops you in your tracks when you spot it in the border.
Coming from South Africa, how will it fare in our Midlands climate? Bob Brown lists it as Kniphofia thomsonii var. thomsonii but does not stock it. He rates its hardiness at H3, finding it borderline hardy on his clay. The RHS lists a similar variety (Baker) as H4. We certainly won't want to lose it after just one summer of glory so I will make a point of mulching it with mushroom compost before the cold weather sets in.
Plant Sale Hits Record Profit
They came in their droves and a buying frenzy left tables virtually bare by the close of our June 2017 plant sale. The pace for the first hour was fast and furious but members rose to the challenge and handled the onslaught with admirable energy and professionalism. The outcome was a record £1,350 in sales.
The 'Chelsea' effect was undoubtedly a key element in this success and plants from the stand were a great draw. But it was sound advance work by the Publicity team plus the contribution of the membership, in growing plants and helping at the sale that won the day. The system, now well practiced, bore up well under the pressure. Wendy Richards, Pippa Hilton and Judy Pollitt manned the plant reception tables outside the door. There, plants were assessed and priced. Pots were cleaned and plants tidied up as necessary. Teams of eager 'porters' then carried them into the hall to be placed by type on the lines of tables. The Group can draw on a formidable fund of plant knowledge among its members and this was put to full use as those manning the sales tables were quizzed about plant names and their cultivation requirements.
Like the squirrels in our garden, the customers gathered clutches of purchases and formed caches around the hall, checking how much they had spent before going back for more. Two cash desks, manned by Roger Smith and Richard King and aided by 'baggers,' dealt with a stream of customers, their task simplified by the colour-coded pricing system. John McGhee did brisk business with the plant supports and it was not long before he sold out.
In the kitchen, Julia Dale and her trusty team worked hard offering teas, coffees and cakes baked by members. The only shortcoming on the day was parking, where later visitors found the car park full, something over which we have no control. A few practiced plant hunters came up to 20 minutes before official opening to get the pick of the plants - and this issue will be addressed at the next sale.
The build-up to the sale was only soured by the theft of our banner from the Spetchley roundabout (intersection A44/A422) within 24 hours of it being put up. It was eventually traced to the Wychavon District Council offices, having been removed by a 'Community Warden'. No comment!
On a personal note, I always cherished the ambition to achieve sales of £1,000 at our plant sales. The experience of other HPS groups suggests that this was attainable and, over the five years since our first sale, takings have consistently edged closer to this target as we gained a reputation for quality and value. The 'Chelsea' effect meant that this goal was exceeded by a huge margin this year but I am confident that, with continuing support and the enthusiasm of members, it can be reached next year and in to the future without the Chelsea benefit, welcome though it was.
Work in Progress...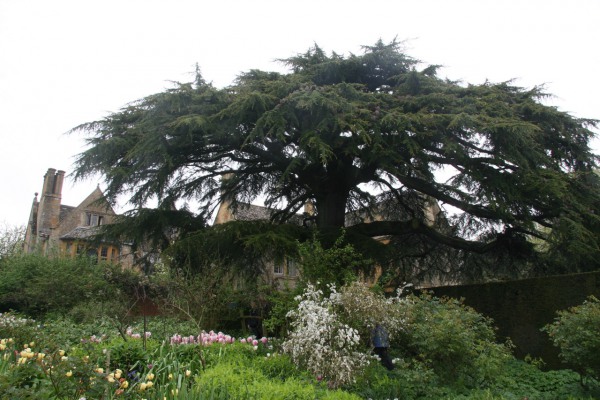 The garden at Hidcote is one of the most important in Britain and has inspired generations of gardeners, both here and abroad. It was created by Lawrence Johnston, whose mother bought the Hidcote estate in 1907, with the idea that her son would farm it. He had, however, become interested in gardening a few years earlier, enrolled as a Fellow of the Royal Horticultural Society in 1905, and began to borrow books from their library.
The garden was at its peak in the inter-war years. In 1924, Lawrence Johnston started buying land in Menton in the south of France, adding further plots in the 1920's and 1930's with the idea that he would be able to grow plants there that were too tender for the Hidcote climate. He called his garden in France Serre de la Madone. Before the war, he would regularly spend the winter in Menton and return to Hidcote in the spring. In 1948, with increasing ill-health, he finally arranged for the National Trust to take over Hidcote, and from then on until his death in 1958 he spent most of his time at his garden in France.
A few weeks ago, I heard (via our HPS email) about a volunteer position at the garden. One of the Senior Gardeners, in charge of plant records and historical research, was asking for help to update the database, and do some research into historical planting records. It sounded as though it was something I could do, so I got in touch and, luckily, was taken on.
Another NT volunteer, Graham Pearson, has been doing much research on the life of Lawrence Johnston and his work has already been published (book available in the NT shop at Hidcote). Our project now is to get to grips with the plants. Hidcote is classed by the NT as a Heritage Garden - another is Sissinghurst - so it is important to get together as much information as possible on the plants that Johnston grew, including those that he collected on his trips abroad.
He hardly wrote about his garden or plants, unlike Vita Sackville-West, and some of his own garden records seem to have been lost. There are some clues about the plants in a few articles describing the garden in the 1920s and 1930s, but they are not the whole story, and there is much detective work to be done.
But the start for me this winter is to convert the records that are available to a digital form so that they will be easier to evaluate. It is all going to take some time!
Five Minutes with … Beverley Powlesland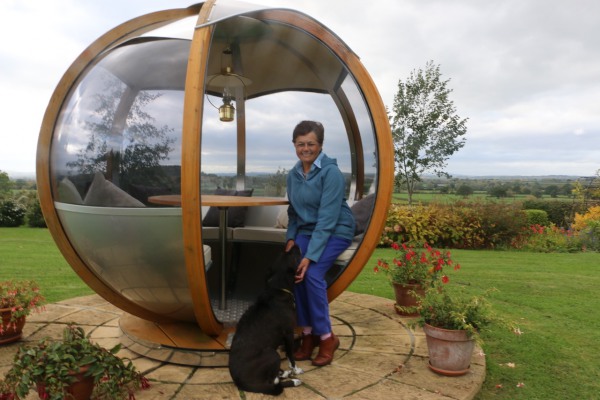 Hello, Beverley. Thanks very much for inviting me. Could you tell me about your garden?
My husband Cliff and I moved here in 2002, after living two doors away for two years. The plot's about four acres – it's never actually been measured, we don't think - but the view is outstanding and completely different from two doors away. It looks out across the valley to the Malverns. We knocked down the old cottage and built our new house, which took about 18 months and involved cutting down about 500 trees to clear the land. The builders dug a big hole, pushed in all the debris from the cottage, roof tiles and everything, and covered it with soil. We planted trees there, so that's our landfill, or our arboretum or glade, whatever you want to call it!
Did you have a master plan?
To be fair, it has just evolved – and it's still evolving. We've made lots of mistakes but there's no master plan. We're on heavy, heavy clay – white clay, grey clay, yellow clay and brown clay – so it's either very wet or very dry. There's a small window of opportunity when it's nice to work the soil and weed and plant and everything. When that happens, I do it all day and all night! I make my own compost and when I'm planting and so on, I put in barrowloads of compost to improve the soil. We've got five compost heaps – lots of grass cuttings and prunings - and one for leaf mould.
What do you like most about it?
Without a doubt, the view. I could spend all day looking at it. What I don't like is the untidiness and the weeds. I think I could do much better. I love my greenhouse – 10ft by 14ft – I really could sit there working all day long. I feel after 15 years here that we've done the basics and now I need to put it all together and make a better garden.
That sounds like a plan!
After being retired now for 10 years, I've decided that 2018 is the year I can finally focus on the garden. You know, there's so much to do in a garden and there'll be more to do in 2019 as well. I want to make a winter garden and I've already got all the plants ready to go. In an ideal world, I'd spend all day in the garden but most times it's about three hours a day.
And how has retirement worked out?
Absolutely brilliantly, the best decision of my life. Well, probably the second best after marrying Cliff. But it hasn't quite worked out the way I thought it would. For the first five years I was just so busy with other things that I didn't really get near the garden. I became a tour guide in Gloucester and had a lot of history to learn. I did my diploma in horticulture one day a week and I had not written an essay for 30 years!
I also became a guide at the cathedral, for which I had to study more history and architecture, and I also became a horticultural judge after 18 months' training. There were only a few RHS judges in Gloucestershire and I was also covering Herefordshire. There is the village hall committee here that I was on, I was secretary of the drama group for five years, I volunteered with the Royal Medical Benevolent Fund and so on and so on.
One day, I was helping on the Gloucestershire Federation of Gardening Societies stand at Malvern Show and a man there was playing the piano. I used to play 40 years ago and I really liked the idea of coming back to it, so I've been learning the piano for the past three years, with weekly, two-hour lessons and an hour a day's practice. After I year, I was playing Beethoven's Sonata Pathetique, just like I did 40 years ago, then we did Liszt's Consolations and now I'm working on all the Fantasies – Chopin, Beethoven etc, all 157 of them. I'm not sure I'm going to live long enough to get through all of them. I've found, generally, that learning gives me pleasure.
And how does the pleasure of music compare to the pleasure of gardening?
I've been gardening for 30 years now and I feel much more experienced doing that. If I'm doing the garden, I think well anybody can plant seeds and grow them but it's putting it all together that makes a garden. With music, anybody can play the notes but it's putting it all together that makes a piece.
May I ask about your career?
I was born in Cape Town, South Africa, and did medicine at the city's university back in the dark ages when the hospital treated whites and blacks separately. The dermatology department had never had anyone of colour – they didn't train darkies, as we were called. I let it be known that that was what I wanted to do and one day I got a phone call to say there was a vacancy. I found dermatology fascinating and spent my final year of training doing research in Glasgow. I got a job in London, doing my doctorate at the London School of Hygiene and Tropical Medicine. I got a Wellcome scholarship to study the bacteriology of ulcers in children – which involved getting samples in Gambia and Fiji. In 1989, I got a job in Greenwich so we moved to Chislehurst. I liked the work but living the way we did became tiresome and we started planning to live somewhere nicer. A job came up in Gloucester, I got it and I did nine years as a consultant dermatologist, covering the whole county from 13 different sites.
Do you have much contact with South Africa now?
I have a brother there and a sister in Australia. The three of us meet on one continent or another once or twice a year and there are school and university reunions. I suppose, because I was there for 30 years, it will always be home. In the UK, we've moved about eight times during our marriage but this definitely feels like home now.
Was there a garden when you were growing up?
In Cape Town, we had a small garden– the soil was like sand. My parents were teachers and education wasn't free. We had to pay so my father did day and night school teaching. We had a man who did the gardening. Everything he put in grew – it's a lovely climate. My first experience of gardening really was when I bought my first house in St Albans with a long, thin back garden. There was a conifer in the front, which Cliff took down. One of the neighbours said how happy she was we were looking after the place but to leave the acer in the front because it was a good one – an Acer palmatum dissectum – so we left it. I grew lupins from seed. In Chislehurst, we had a third of an acre, which felt quite big.
Any favourite plants?
Not really. I like anything that grows. But if I'm honest, the flower I like most in my garden is a Gaura. I had one seed germinate about five years ago and that year I took 10 cuttings and got 10 new plants. If a plant does that, you can't fault it. The following year, I sold a lot of it on the plant stall. I have Gaura right across the garden – and in September to November it adds a certain airiness – it's such a good doer. It likes my soil and doesn't get pests and diseases.
And finally, how do feel about being a Hardy Plant Society member?
I've been national events coordinator for the HPS and I was a trustee for a few years. The HPS, for me, seems like an organisation that changes only slowly. But it has been very helpful to me. I've learned a lot, met lots of very good people. I joined Kent group when we lived in Chislehurst, Western Counties when we moved to Hartpury and Worcestershire about five years ago. I think the Journal is very good, very well written. I've made quite a few good friends as well.