Devon Garden Tour, 2017
Sunday 25th to Thursday 29th June

June 25, 2017 – and a coachload of Worcestershire HPS members set off for what turned into a memorable few days looking at a dozen Devon gardens and nurseries. In the event, it was the final group garden tour to be organised by David and Judy Pollitt. We have much to thank them for. Here are what people thought of the places we visited.
View
slide show
or click on an image below to enlarge it (opens in new window)
Chisenbury Priory
For a large garden, Chisenbury Priory is at first remarkably shy. Yes, there's a tree-lined drive, then an immaculate topiary garden, but the wall enclosing the garden in front of the house hides it until you're within three feet of entering.
This first garden, enclosed by eight feet high brick walls with little roofs, is traditional, to suit the Queen Anne front. The borders are wide: the plants often big and I really liked the different textures in the foliage and the flowers of plants such as eremurus, salvia, stipa, thalictrum and veronicastrum as well as their colours.
We went through a small gate to another large space where the enclosing wall changes angle and the house is 17th century, mullioned windows and all – a very different place. I enjoyed the offset angle and the pergola: enormous, detailed and turning a corner: a real feat of imagination and craftsmanship. The immediate impression was of a sea of pink up in the air, in shades from the cream to deep purple-pink tones of the roses it supported.
This space led on to the mill leat where I really liked a subtle combination of hosta, astilbe, white campanula and light blue geranium. Ligularia grew a little further along. We admired a line of wonderful ancient, originally espaliered, apple trees, though by this time most of the garden is a series of curves and smaller spaces. The wild garden, complete with orchids in the mix of flowers, is another large space, alongside a swathe of Phlomis russeliana.
We spent too much time in the first gardens, so had to whisk through the white garden, but paused in the parterre. This was probably our favourite part of the garden, possibly because we're used to a small space, possibly due to the splendid delphiniums and possibly because of its unified structure and, to us, satisfying colours. And finally the lily pond: not a good feature and why four statues unrelated to one another?
Conclusions: when visiting a large garden try to have a reasonably quick look right round and then go back to what interests or appeals to us; and Mr Manser is like us in one respect – he seems to want one of many types of garden and we want one of many types of plant. Difficult to resist, but we at least have seen again that we should!
Westcroft Garden
Our next garden was Westcroft Garden in Boscombe Village. We were greeted by the owner Lyn Miles, her daughter and granddaughter with a welcome cold drink before we found somewhere to eat our picnic lunch, completed by a slice of one of the delicious home-made cakes on offer.
Westcroft is a total contrast to Chisenbury, our earlier call that day. The NGS calls it a 'wilderness paradise', a very apt description. Much of it is on steep slopes covered in a great variety of wildflowers (weeds to some ) mingling with many different garden flowers, mainly on the flatter parts.
Maintaining this type of garden and balancing the mix must be a great challenge. Lyn is an enthusiastic plantswoman and an active member of her local NGS group. How she finds the time to look after her garden and run a business is a mystery to me.
Cottage in the Trees
There was an immediate wow factor on descending from the coach as we had parked next to a picturesque old barn perched on staddle stones, something that I had never seen before.
Then we were toiling up a fairly steep slope through an imaginatively laid out garden to a charming thatched cottage and to be welcomed by our jolly and charming hosts. I felt this was a fine example of what can be done on a hillside without terracing. It must surely have been at its best. There was no reason to say that we should have seen it last week.
It was here that the first purchases of the trip were made. Has anyone heard of a climbing cotoneaster? I'll see what develops, but I suspect it's a horizontalis or fishbone.
One mystery remains, Did the roller perched half way up the slope ever make it to the top? A lovely garden with a lovely view.
Marwood Hill
Marwood Hill seemed elusive, somewhere in the far reaches of the Devon countryside, but, when we did eventually arrive, the garden turned out to be in an enchanting setting.
The national collection of astilbe, beside the lake, featured an amazing display of plants in full bloom, whilst the many Champion Trees enhanced the landscape, a credit to the foresight of the original garden owner.
Perhaps the most inspiring feature was, however, the stream which meandered down the valley. Planted with profusely flowering candelabra primulas, they were a truly delightful sight.
RHS Rosemoor
Val and I first went to Rosemoor a few years ago during a short break in Devon. It was February so we did not have great expectations for the visit. However, we quickly found the Winter Garden and were delighted to see their interesting display of hellebores. We have had an interest in hellebores ever since. The Winter Garden set us up for the rest of the visit.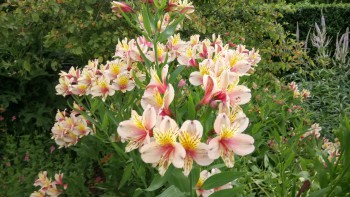 Rosemoor in June, as you would expect, is a much busier place with so much going on that you wonder how much you will be able to see. Coming through the entrance you are led to a series of small gardens behind formal hedges. There is much to enjoy here, each being devoted to a theme- roses, hot garden etc. The plant that impressed me the most was an alstromeria, pictured here. Unfortunately I could not find a name-plate to get its full name. It was about five feet tall and about as wide. If anybody can identify it, I would be grateful if they would let me know its full name.
After the gardens, visitors are free to explore the rest of the site. At the the other end of the site there are more small gardens – Mediterranean, woodland stone, a woodland walk or the Bicentenary Arboretum with its signage that promises that it will be mature in 100 years time.
I had to walk to the other end of the site to find the garden that took me by surprise and has lodged in my memory the longest. It is the fruit and vegetable Garden. There, there were bright lettuces smartly lined up, courgettes flowering and a whole range of vegetables and soft fruit all thriving. And I did not see one pest in this garden. How do they manage that? And why can't I do it?
High Garden Nursery
Bickham House Gardens
Bickham House in Devon, has been in Julia Tremlett's family since 1685. The house is set in a wonderful valley with rich Devon pasture on either side and the approach to the house and garden is by way of a long, narrow lane that opens up into a beautiful valley vista. As the lane comes to an end, there is a grand semi-circular entrance with pillars, finials and superb gates.
Impressive park railings wind alongside the drive dividing the garden from the sloping parkland below and a lake added in 1990.
The land rises steeply on the right and the first tier accommodates a herbaceous border. Marvellous old rhododendrons and camellias attend the higher banks. In spring old-fashioned daffodils flourish beneath. There is an ancient, mossy-branched mulberry and huge tulip tree.
Magnolias do well there, too, and walking the higher path through the shrubbery allows a view straight into the canopy of the lower growing trees down the slope.
The path through the shrubbery brings you round to the back of the house and a formal, paved courtyard style garden with a rectangular pool and clipped box beds.
As I wandered down past a potting shed I came to a cobbled passage, hung with forks and spades. This led through into a walled garden with greenhouses and plant sales area.
Whilst the bottom half of the kitchen garden is still used for fruit and veg and cut flowers, the top half slopes up quite steeply and is laid to grass. A row of trachycarpus palms led to a summerhouse.
The view looking down to the house from the summerhouse evoked a wonderful, old-fashioned colonial feeling.
Burrow Farm
We were met by John and Mary Benger where we were made very welcome and immediately enjoyed a salad lunch before exploring their wonderful, 13-acre garden.
It has been created on quite a steep slope going down to a deep area that was originally a Roman clay pit. The lovely selection of trees and shrubs planted in large island beds over an era spanning nearly 60 years give no indication of how barren the site must have been when they moved there in 1959. It is a most beautiful natural site with amazing views and has a calm, quiet atmosphere throughout.
Mary is a true plantswoman and as well as having been chairman of the Devon HPS branch loves trees, shrubs and surprise, surprise - herbaceous perennials. She lists her favourite shrubs as Cornus kousa "Satomi", and the newer Cornus "Norman Hadden" which has red strawberry-like fruits in autumn. She has planted a large selection of shrubs and a specially designated area for rhodedendrons and azaleas, which must look stunning in the spring.
The garden design follows the natural contours and is one aspect of gardening that particularly interests Mary. The site lends itself to the design and plan that we now see with the well stocked courtyard and terrace gardens in close proximity to the tea rooms.
The grasses garden is the newest addition having been planted after the Millennium Garden was completed. It will be stunning and at its best in August, September and October. I am sure we can all imagine the Deschampsia cepitosa and many other grasses turning to lovely autumnal shades of blond, gold and russet.
Campanulas are a great favourite of Mary's as was obvious throughout from the rock garden, where some species are as small as two feet to the taller varieties which can grow up to five feet. They are a wonderful old favourite with such beautiful colours and shades from white through all the blues and pink and lilac to strong purple.
The rose garden is always a great favourite and Mary likes to combine wild flowers like pink campion with the roses. In the spring, roses are underplanted with bluebells, which will make a glorious splash of colour.
Another combination of plants Mary had was the fairly new Diascia personata, which grows up to four feet through a purple berberis. Again, the berberis family is large with many different colours and types and such good fun to experiment with as our gardens constantly change and evolve.
It is a most interesting garden and one which will be beautiful in every season of the year.
On The Wild Side
Wednesday, and the penultimate day of our Devon tour and perhaps the visit that I was most excited about. We were heading to Wildside, the creation of Keith Wiley. The only downside was that it was raining - a lot - the sort of torrential downpour that makes Devon hedgerows so lush.
The entrance gave no hint of what was to come. There was a warm welcome from Keith and Ros in the covered nursery area and then the invitation to "Go right or left, take your pick". I might as well have fallen down the rabbit hole because it really felt like I had entered an enchanted world.
I chose the right-hand path and came into a Mediterranean courtyard with exuberant planting punctuated by terracotta urns. It may have been the rain or perhaps the planting looked a little tired, but it was beyond this that the vista opened out and the adventure really began.
The landscape here (sculpted from a sloping field by Keith in his digger) felt rather alien to Devon, giving the impression of a disused quarry where piles of rubble rose either side of the winding paths, with plants in wild profusion. Gorgeous day-lilies in rich colours, grasses erupting like fountains of diamonds as the raindrops caught the light and everywhere wonderful clumps of dieramas, whose pastel pinks will be replaced by the deep blues of agapanthus later in the summer.
The paths here end abruptly and perhaps Keith will develop it further, but it was time to retrace my steps back through the nursery sales with a chance to pause in the dry and be tempted by a few choice dieramas to take home, before passing through to the left. Here the slope stretches down the hillside from the house, sheltered by a belt of trees (all planted since 2004) to the damp garden at the far end criss-crossed by wooden bridges.
I was once more lost in the sheer abundance of plants as narrow paths wound back and forth between rounded hillocks that not only provide increased surface area for planting but create new vistas at each turn. The planting here is richer in texture with more variety of foliage from plants that thrive in a woodland setting.
At the lowest level, dainty dierama bells arch over sumptuous iris either side of the frothy flower heads of a cream astilbe on the edge of this exuberant planting around the boggy area where foliage all but obscures any glint of water. I particularly liked the way the rainwear and umbrellas of our group perfectly complemented the colours of the flowers.
Keith has taken inspiration for the garden from his observations of plants in their natural habitats across the world, and it is testament to his knowledge and skill that he has created such a diversity of landscapes within this space where an astonishing range of plants can thrive. We can only stand in awe at what he has achieved while Ros uses the garden as inspiration for some of her beautiful paintings.
The Garden House
I'm fairly sure that we hardy planters do love a head gardener to listen and talk to!
And we were granted just that wish during our rather damp but definitely delightful visit to the The Garden House.
Nick Haworth was there to guide around half our number around large areas of the 10-acre site. It was a real pleasure to have his personal insights into how the garden has developed in recent times since he took over at the end of Keith Wiley's 25-year stewardship. We'd called in on Keith's latest creation, Wildside, during the morning and it was great to compare and contrast the two places.
And it was great to hear Nick's fulsome praise for the rock-solid foundation that Keith had produced during his time at this garden on the edge of Dartmoor.
The grasses everywhere though were weighed down by the day's deluge but even they could not disguise the crisp, colourful, dreamily-planted beds that abounded, in particular around the Walled Garden section of this horticultural oasis.
One of the plants that almost everyone commented on was Dierama pulcherrimum, which seemed to flourish here – and at several other places we saw on the tour. I think it may well be making an appearance in my little corner of Worcestershire fairly soon.
These days the garden is overseen by a board of trustees, having been bequeathed by the original owners for 40 years, Lionel and Katharine Fortescue. They, the gardening staff and their volunteers are to be congratulated on a garden that absorbed us completely for nearly three hours and could have done for hours longer.
Cothay Manor
We spent a few days travelling along tiny country lanes, so when the visit to Cothay Manor on the last day took us down several tiny country lanes, we were not surprised at all. We arrived a few minutes ahead of schedule and were welcomed by the owner ("head gardener)" who gave us a brief description of the house and gardens, and then promptly went to put the urn on for tea.
The 12-acre garden extends around the house down to a river. The garden is divided into many "rooms" which branch off the long yew walk. We entered the garden through a "room" planted with robinias and underplanted with nepeta. A central focal point was a very impressive statue, and from this room there were several exits.
The planting in the other rooms was varied cottage-garden style in places, colour themed in others. A gravel garden with mature olive trees, underplanted with a variety of thyme, and a few irises with variegated foliage was set off with tall, well sculptured yews. A bank of annual cosmos made a very colourful display. Devon seemed to be dierama country-and Cothay Manor had its fair share of dieramas, self seeding all over the slabs.
The hedges were manicured into beautiful shapes. Topiary of several trees added structure to the vast landscape. The borders had plenty of phytollaca running through and also Clerodendron bungei which seemed to be very happy there. The river which runs through the garden, provided another environment for different planting. Well-placed wire mesh limits the amount of soil erosion from the river.
There were several seats in the garden, which allowed visitors to sit and contemplate the surroundings with bird song in the background. A wonderful setting.
The "climbing alstromerias" were an absolute delight and although I suspect the slugs will have mine in no time, it is a plant I shall try and grow in my garden.
East Lambrook Manor
This was our last day of a wonderful varied set of garden visits. After a delicious lunch at a nearby restaurant, we descended on Margery Fish's cottage garden. The enthusiastic current owner gave us a resume of this English Heritage Grade One garden's history.
Margery began her passion for planting this 15th century manor garden in 1937.Now an art gallery and cafe have been added.
She was self taught and loved loose-flowing borders, full of cottage garden plants. She has written many gardening books including We Made A Garden.
Her husband wanted more orderly traditional planting, which he duly planted. Margery simply removed these and replaced with more of her favourites.
The two-acre terraces are divided into named areas - Silver, Lido, Ditch, Woodland. On some paths her famous 'pudding trees' flank the borders.
Her mantra "if in doubt, plant a geranium" was evident with plenty of these plants flowing over and through others. There were lots of other perennials to see, nicotiana, Amni majus, phuopsis, Lathyrus aureus etc.
Unfortunately, honey fungus has invaded some of the trees and plants, the apple trees especially were blighted. However, there were plenty of lovely areas to admire, before heading off to the nursery.
Here, I bought a geranium named after gardener Maureen Whitty, who is the oldest working member of staff.
We rounded the afternoon off with delicious tea and cake. I would love to visit this garden again, perhaps at snowdrop time, or early spring.