Thalictrum delavayi seen at Crûg Farm Nursery, North Wales. Picture by Mick Dunstan
the
newsletter
Issue 50 - Autumn 2019
Contents
From the editor
Welcome to the 50th edition of the Worcestershire HPS newsletter. As I write this I'm enjoying probably the last days of sunny weather before we move properly into Autumn. Do I tidy up the garden or wait for the Spring? Then comes the Winter in which we are promised a very cold January and February-another 'Beast from the East'? These are reminders that gardening is no longer about definite seasons and individual garden conditions but also about the unpredictability of weather and reassessing what holds up under variable temperatures and rainfall.
This edition reports back on our wonderful tour of Hampshire gardens this June and the perspectives of different members. Many thanks to all the team who made this such a success. These accounts will hopefully give a flavour of the experience for those who were unable to be there and some recommendations for future visits. Mick has recently made an initial visit to Ireland with a view to planning our next garden tour for 2020- our 25th anniversary year.
We have 2 rather more 'exotic' garden accounts from Mick Dunstan and Selwyn Lane respectively following visits to Canada and Kamchatka. Judy Pollit offers us a recommendation for a 'different' Autumn bulb whilst Elspeth Napier offers a short note on invasive plants. I tend to agree with her nomination of Verbena Bonariensis as a garden 'thug'. I have seedlings marching across a gravel drive towards my front door. My rival nomination would have to be the triffid-like Acanthus Mollis which I'm still digging up 2 years on after an ill-advised planting and trying hard to resist resorting to glyphosate! If members have any 'garden thugs' they wish to nominate, please e mail me and we can compile our own local list as well as contacting Tomas Jones for his RHS project.
There are our usual news roundups and the regular Five minutes with interview where individual members talk about their garden to Mick. This month Janet Segar shares her thoughts on the development and challenges of her garden. David Pollitt reports back on our annual plant sale and his intention to stand down as the organiser. On your behalf I would like to thank David and his team of helpers for coordinating this event for so long. Their hard work belies David's comment that it appears to 'run its self'.
Finally I am thinking of running a regular feature on 'My favourite garden" where members write about a garden that's particularly impressed them-or they've enjoyed and recommend. Please let me know if you are interested and even better if you can contribute. I would also be pleased to have recommendations you have for local nurseries, garden tools and plants that do well in our area-in fact anything hardy planters and gardeners may find interesting.
Just mail me with your thoughts/ideas/suggestions.
Try Something New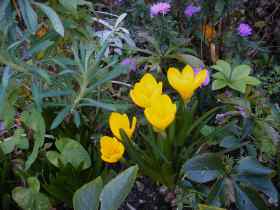 The autumn bulb catalogues had arrived full of exciting plants to order for the following spring. Amongst the tulips, daffodils and crocus there were little treasures like the species tulips, new cultivars and amongst the crocus could be found the autumn flowering colchicum and Sternbergia lutea. I already had plenty of colchicum so my eye was drawn to the golden cup-shaped blooms of the Sternbergia. This was all some years ago and I now have three separate clumps of this glowing flower.
Sternbergia is in the family Amaryllidaceae and related to the daffodil but blooms around October time. The strap-like leaves are dark green and shiny and the flower is golden yellow, cup shaped like a crocus. Other names for the flower are Autumn crocus, Autumn or Winter daffodil, and Lily of the Field, as in the Bible. The Plant Finder lists several nurseries which supply it but the bulb catalogues offer it in multiples and quite cheaply. It needs a sunny spot with free-draining soil and can be planted in pots, borders, rockery, or gravel garden.
I think the bulbs would benefit from soaking in water for a few hours on arrival to rehydrate them before planting. Plant in small groups 10-15 cm deep and the same apart. They germinate in early to mid-autumn but germination is erratic so patience is needed; over time they will clump up and form groups. Mine surprised me when they first appeared. I didn't know what they were but gradually I recalled having bought some bulbs some years earlier. I must have planted them and forgotten all about them so I suggest a marker of some sort to remind you where they are.
Do not divide unless the flowering diminishes. The dark green leaves are untouched by our numerous small mammals so they must be tough and there has been no slug or snail damage. They bloom over four weeks and are named after the 18th century Count Kaspar von Sternberg of Prague. They come from Southern Europe, Turkey and Central Asia where they grow on rocky hill sides or in scrub and benefit from a summer baking.
A Trip to Kamchatka
Stunning scenery, fascinating vegetation and volcanoes awaited Selwyn after an eight-hour flight from Moscow. Here's what happened next …
So, there I was in Kamchatka… "Where?" and "Why?" are the two most frequent questions I get posed. Kamchatka is a peninsula in the far east of Russia, eleven hours ahead of the UK, so literally almost halfway around the world. Getting there involved flying to Moscow and then taking another eight-hour overnight flight, roughly along the Arctic Circle for much of its duration. Petropavlosk, the main city, is towards the southern end of the peninsula, at roughly the same latitude as Stoke-on-Trent.
As to 'why?' go there, it has stunning scenery, being one of the most volcanically-active places on earth, fascinating wildlife and vegetation and most of it is wilderness. The total population is around 315,000, with more than half of those living in Petropavlosk. Besides Russians, Kamchatka has several different indigenous peoples, somewhat similar to the tribes of the Northwest coast of America.
Climatically, Kamchatka has relatively mild winters (certainly by Russian standards) - typically -7C in Petropavlosk - and cool wet summers, the weather being affected by the cold Bering current running down the east coast. There is a lot of rain, and snow in winter (10 - 12 feet or more at sea level), the latter persisting year-round in many places. Summers are relatively short so plants have to grow extremely fast once the snow has finally melted.
Petropavlosk was founded in the mid 18th century but the buildings date from the late 19th century onwards. Monuments include ones to a successful defence against an Anglo-French fleet in 1854 during the Crimean War. The setting is spectacular, overlooking the wide and sheltered Avacha Bay and with surrounding mountains and volcanoes.
Our tour involved a range of activities across various locations. In Petropavlosk we were taken to a cultural centre to see local dances and customs of the indigenous peoples, including dog-sledding. We had a walking tour of the old town centre, visiting the museum and various historical sites. This was followed by a boat trip around Avacha Bay and out to the sea beyond, viewing large seabird colonies, harbour seals and an enormous male sea lion.
Outside the city we walked along black volcanic sand beaches, climbed volcanos and other mountains, walked through the woods, rafted down a river where we fished and finally saw a bear. We had been warned of the dangers from bears (over 10,000 in Kamchatka) and were not allowed to walk in the countryside on our own (very frustrating for a naturalist!) but didn't actually see one until close to the end of the trip. Much of the travelling was on un-metalled roads, or no roads at all, using an expedition truck - a coach body on the back of a heavy lorry. When driving to volcanos, the terrain was extremely rugged and normal minibuses or coaches would have had no chance of handling it.
Accommodation varied from a modern hotel in Petropavlosk to very basic accommodation at a volcano base camp (bunk beds and sleeping bags in shared dormitories, outside loos and washing in icy cold water!). Weather-wise, we were extremely lucky, with hot and sunny conditions at least at low levels for most of the trip and only occasional rain-it didn't really matter.
Situations Vacant
Lyn Maile will be stepping down as Secretary at the 2020 AGM. We therefore need a volunteer for the position of group Secretary in order to continue with the smooth administration of the society.
Secretary
The main duties of the Secretary are to:
Compile the agendas for Committee meetings and the AGM and to write the Minutes for these as well as being custodian of the Worcestershire Group archive. Book venues for monthly meetings, Committee meetings and the Plant Sale. Be the point of contact for the HPS National Administrator; letters, notices, Group News, Group Officer updates, annual accounts etc. and liaise with the Membership Secretary regarding new National HPS members who wish to join our group. To be the contact in the national newsletter and on the national website also for the Worcestershire group website. Attend the Group Secretaries annual meeting in October each year. Keep an up to date membership email address list, to send reminders about meetings and events to members. Maintain the Secretary's board for meetings with events and information of potential interest to members. Skills required: IT literacy, a friendly demeanour and an interest in people.
If you are would like to know more about this role please speak to Lyn Maile
Coffee and Cake at Vicars Hill
On what was fortunately a beautiful day in June I opened my garden to local HPS members who came to enjoy cake and a drink and a wander around my borders and traditional orchard.
I had volunteered to open my garden with some trepidation as inviting such experienced gardeners into my own domestic garden seemed pretty daunting! I had been assured that people are actually coming for the refreshments and to talk to friends old and new rather than to look very critically at the planting and fortunately this proved to be true! Comments from those strolling around were universally complimentary and also understanding when I couldn't remember the name of a particular plant (sorry Rachael and Ann)! Around 25 people came including a some of our new members and were able to relax and take their time to talk and walk as well as enjoy the refreshments. Thanks to those who contributed cakes on the day (I am not a great baker!).
Of course, there was a fair amount of work involved in the season running up to this date; lawn edges were tidied, hedges cut and borders studied with a critical eye. It finally gave me the boost I needed to sort the piles of pots, clear the nursery area behind the greenhouse and properly tidy the potting shed-all well worthwhile! I even set in motion long-held plans (10 years!) to erect my sundial on a plinth of "Constantine" granite-it didn't quite make it for the coffee morning but is now proudly in place telling the time on sunny days!
Mine was one of three members' gardens opened in 2019 and it was lovely to welcome those who came. Unfortunately, though, numbers were quite low and it seems that this kind of event has limited appeal for our membership. Next year as you know will be our 25th year celebrations and we have some very special events planned. We have therefore decided to hold just one members' open garden event to fit in with these and of course more details will follow.
Afternoon Tea at 'Providence' Elmley Castle
On a fine day in July Babs Jewell opened her garden to HPS members and provided afternoon tea for approximately 25 members.
Many thanks to Babs and her helpers for the refreshments but especially to Babs for organising as well as sharing her lovely garden.
Five Minutes with … Jane Segar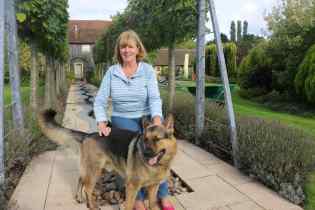 Jane with rescue dog Sam by the garden rill
Nearly 25 years ago, Jane Segar and husband Jon moved to their present home in Cookhill, near Redditch. Outside, it was just a farmyard with piles of road chippings. MICK DUNSTAN has been to see how things have changed…
Afternoon, Jane. You've a lovely looking garden by your front door.
Thanks very much. It's certainly different from when we arrived in 1995 – not a plant or a tree in sight and no birdsong either. The place was just a shell and the house became our top priority. At the time, I was working as director of finance at the Alexandra Hospital in Redditch and Jon was working abroad so we didn't have a lot of time to sort out the garden. When the Alex merged with hospitals in Worcester and Kidderminster in around 2000, we were all out and I had to find another job. I suppose we started to sort out the garden, which is about half an acre or so, after that.
And so, where did you start?
In the end, we got a garden designer to draw up a plan, most of which we still have today – the box hedging, the circle lawn and so on. Over time, though, we changed a few things as well. There was a lawn out the back with some herbaceous planting and for my 50th birthday, we went to David Austin Roses and it has become a rose garden. We also have a rill now – a major job. We decided to plant pleached limes – Tilia platyphyllos which has red stems in the spring - along either side, so I had to dig out a cubic metre for each of those 18 trees and that was truly hard work. The soil was so compacted and equipment we brought in broke. I saved all the stones we got out and I'd be a millionaire if I could sell them all! I planted spring bulbs and grasses under the trees but decided I didn't like them and now it's Lavandula angustiflia 'Hidcote'. Most of the digging of flower beds here has been done on my hands and knees and I can go through a garden fork a year. The good news is that the soil is very fertile – it's certainly quite full of weeds!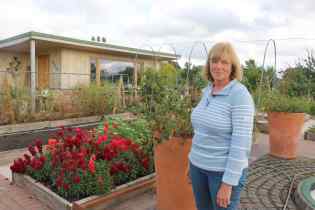 In the newly-completed potager
Is the garden finished now?
Getting it to its current state has been quite a struggle but we're almost done. This year has been a major construction time so the rest of the garden has been a bit neglected. The potager – our fancy veg area – is complete as well. In our time here, we have been involved with a 13-year, six-figure legal battle over a footpath along the side of our garden. The wall there has been up and down. We have been to judicial reviews with Wychavon Council and we 've won. Jon and I are experts in footpath law but it has been a real ordeal. The end result was that our neighbour had to give us some land so that the footpath could be the four-metre width that was required. It's all sorted and we can get on with our garden again. It consumed our lives for a long time and was often all we talked about.
Sorry to hear all that, Jane. I can see it would have a big effect.
In the days before I retired, the garden was my sanctuary. With the pressures of work and the legal battle, the garden gave me time to calm down and relax, get things in perspective, People say they hate weeding but I love it. It's takes you somewhere that you don't have to think too much. After the Alex, I worked for Whitbread, paying 120,000 people, and then moved on to AT&T, the telecoms people, from where I retired.
And retirement has turned out to be a good thing?
Well, to be honest, I hated it to begin with. I missed the melee, the people and the conversations. The other thing was that I felt so selfish – I could wake up in the morning and do exactly what I wanted and, somehow, that didn't seem quite right. I'd worked all my life, starting with a Saturday job at the age of 15. That state of discontent lasted about 12 months I reckon – when we went off to Australia and New Zealand and I think I finally unwound while we were away. I was glad to get home again and started to enrol on gardening courses, including ones run by The Generous Gardener, down near Cirencester, and at Pershore College.
Any highlights from the courses?
My latest course, a Christmas present from Jon, has been the Plantperson course run by Jimi Blake at his Hunting Brook garden, south of Dublin. It's basically one day a month for a year – but there are no courses in December or January and I've done two days in March. Jimi did a talk at Wildegoose Nurseries that I went to and was just bowled over by. It means I've been flying to Dublin every month on Ryanair from Birmingham – getting up about 5am, do the day course and then flying back, usually the same day. While there, we spend the morning in his garden – what's in flower, how to grow and propagate, what looks good with and so on it. In the afternoon, we've also been to other gardens and had speakers in. I've just finished the final day and I've learned so much. One of the things Jimi talks about is getting rid of plants you don't like anymore. I don't think you tend to edit your garden that much but I'm taking a leaf out of his book– for example, a spiraea. I won't get rid of it altogether, just move it further down the garden. They're OK plants for a couple of weeks but don't give enough value. There are much better plants that I know about now.
Tell me about the rest of your garden.
It's about half an acre inside the walls and we have a two-and-a-half-acre field where we have an orchard, the potager and now we have a half-acre pond as well. We have a woodland area there –now providing a windbreak for the rest of the garden. We had Frank Hardy, the former vice-president at Pershore, down to help us because it was so windy here. A student of his planted 1,500 saplings, nearly all of which have taken. It's only been the last few years we have done any more work down there. The half-acre nearest the house is my first proper garden – I've had two others but they were small and we were busy with our careers. We were away a lot, travelling etc. and then as I had more senior roles in the NHS, I just wanted somewhere more tranquil and we found this house where we could really start a proper garden.
How much time does your garden take up?
Now, it's my main pre-occupation. Some may say I'm obsessed but I'm not really. My other hobby is cooking – I love it – but I'd rather be in the garden in summer. I'm there every day if I haven't got other things to do. It's been said that I need the odd rainy day to do some housework! Jimi has opened me up to expand the colour in my garden, layering plants across the timeline so you don't have this thing about a bed looking good in May but not the rest of the year. Jimi constantly changes things around.
You've been a member of HPS for a couple of years now?
I'd heard about this thing called the Hardy Plant Society and genuinely wanted to improve my knowledge, get a bit more in-depth with like-minded people. It's worked out OK but Jon and I probably don't socialise enough and I've missed a few meetings because of Jimi's course this last year. I'm also a member of Cookhill Garden Club, where I'm treasurer. HPS does have different speakers – although we both have Chris Beardshaw next year. In the main, the two don't cross. It's absolutely turned out the way I hoped it would.
So, years of gardening to look forward to?
I've become aware of getting older and I have a bit of arthritis in my hands. For the first time this year we've had someone in to cut the hedges for us and Jon and I have worked really hard in the garden, almost to the point where it was becoming a bit of a chore, not a real pleasure. Now that we are finally getting there, I am really enjoying the garden a lot. We've just bought a portable fridge so we can take that down to the bottom by the pond and just sit and relax for as long as we want. So, life begins next year...
Sounds good, Jane. I hope it works out. Thanks very much for showing me round.
HPS Summer Evening Party
John and I open our garden at 1 Church Cottage Defford for around 6 days a year for the NGS Scheme. We have done this now for 15 years and most years we raise around £1,000 for the charities, mainly nursing, that they support. This year we have raised £1,900 which includes group visits by garden clubs, WI etc.
We volunteered to hold the annual Hardy Plant Society evening garden party this year. This was independent of the NGS.
On the day, after a lot of organisation we were ready. The village hall was hired for the refreshments in case of poor weather but it was a lovely evening. The plan was for members to park at the hall and then visit the garden and have drinks whilst walking around, and then to retire to the hall for the refreshments, which I think worked very well.
On the evening we welcomed only about 20 members, which bearing in mind the large membership we have at the moment, was a disappointment given the amount of work that had been put into organising the event. I believe those who did come enjoyed the evening, and perhaps those who weren't able to come will visit next year on one of our NGS open days.
As someone who attended this event it really was an enjoyable evening; it was a joy to meander up and down the garden (drink in hand) and admire all the work John and Ann have put into its creation. As with the 2 other events hosted this year by members the numbers attending were quite disappointing particularly as those hosting work so hard and have to cater for an unknown number of visitors.
Spotted… the garden as art.
Chairman Mick Dunstan visited Canada this summer and called in at the National Museum of Fine Arts in Quebec – where a garden was one of the art exhibits.
Planted on a flat roof of one the National museum's many buildings, it was created and finally finished by artist Patrick Coutu in 2016 – and consists of bronze and stainless steel sculptures set in a planting of succulents.
Patrick holds a master's degree from the Glasgow School of Art and his work is featured in a number of public and private collections in Canada and abroad. I wasn't sure if the garden was meant to be an art installation but the woman I spoke to assured me it was absolutely art, commissioned specifically for the opening of a new gallery at the museum. At first, I really didn't know what to make of it but over the course of a few minutes, I'll confess I liked it more and more.
We all know that gardening exercises not just our body but our mind and creativity as well. Good to have confirmation of that in Quebec.
2019 Plant Sale
This year's plant sale held something of a surprise. Members had rallied to the cause and the hall was filled with an amazing assortment of plants. Extra tables had to be put out to accommodate them all. There was a sense of anticipation in the room as the sale was declared open.
But instead of the initial rush we had become accustomed to there was just a trickle of visitors and as the afternoon wore on an air of despondency settled on the helpers. Quite a large number of unsold plants had to find temporary homes until the following regular meeting. Reasons were sought for this apparent failure. The previous day had seen incessant rain and the morning of the sale itself had brought further showers. But should our gardener customers have been put off from attending what was, after all, an indoor event?
No one was more surprised than me when Richard, our Treasurer, later reported that takings had totalled £ 1,150, some 10% more than last year which had also been a record.
The Group's annual plant sale was initiated eight years ago at a time when I was Secretary and attending the Society's annual Secretaries Meeting, a useful forum for the exchange of ideas and experiences with other groups. There, I learned that some groups were raising sufficient money from their plant sales to fund their entire year's speakers programme.
A small sub-committee was set up to decide if and how we ourselves could establish a successful plant sale. Whether to invite outside nurseries as some groups do, whether to charge admission, whether to reimburse members with a percentage of sales to cover their costs, where and when to stage the event and how to promote it were some of the questions we addressed. We were delighted with the result of the first sale which raised £600.
The sale has grown in popularity since then, not just with the local community but with the members themselves. It brings us together with a common sense of purpose and it is gratifying to see the spirit of camaraderie and teamwork that has been built up over the years.
Nowadays the plant sale virtually runs itself and my role as organiser has effectively become redundant. Other pressures dictate that I should now step back and leave the job of coordinating the event to someone else. I would be happy to give them the benefit of my experience and I hope they will find the task as rewarding as I have.
• Next year, Mick and Selwyn have agreed to take over the organisation of the annual plant sale, which will be held on Saturday June 6 at our usual venue, Peopleton Village Hall. Watch this space for more information.
Invasive Plants
There was an interesting exhibit at Chelsea this year – "Ornamental Plants: Our Future Invaders?" A Ph.D. student at Reading University, Tomos Jones, wants to find out which garden plants might become invasive if they 'escape' from our gardens in future years and flourish in the warmer climate, which is on the way. Two possible examples were given – Montbretia (Crocosmia crocosmiiflora*) and giant rhubarb (Gunnera tinctoria+). Thirty-one other 'suspects' were listed, including Buddleja davidii, which has already distributed itself widely in towns, particularly beside railway lines.
Mr Jones believes that gardeners have a good idea about which ornamentals might be likely to take up more than their allotted space by seeding about or creeping outwards. He is looking for help from gardeners by means of a survey attached to a blog on the University of Reading site (blogs.reading.ac.uk/crg/phd/tomos-jones).
My 'thug' would be Verbena bonariensis.
* This original French hybrid introduced to the Uk in1879 was found in the wild in 1911 and is a common sight in moist areas of the UK e.g. on riverbanks and the road side in western Ireland. They are invasive in parts of Australia and some western and southern states of the USA.
+ Smaller than Gunnera Manicata, G Tinctoria established in the wild as early as 1908. Considered invasive in Cornwall, Isle of Man and Western Ireland.