Contents
Articles
From the Chair
Autumn is here again, and in some ways it feels as though we haven't really had summer yet with a long dull, cool spell through July and August. I have found it a difficult year for striking cuttings - too hot, too cold, poor light, I'm not sure if it was just a combination of these, but many 'damped off' and even my scented pelargoniums suffered from grey mould (Botrytis cinerea) in the greenhouse, causing rapid de-foliation before thankfully recovering and making new leaf growth. However that made planting up some of my pots very late and now I am already behind in thinking about buying bulbs for colour next spring!
Enough of my woes; what a wonderful day of celebration we had for the Worcestershire Group's 20th anniversary on September 12th. There was a real feeling of a family sharing experiences and memories and we were delighted to welcome so many friends from other groups. The choice of speakers was excellent giving a range of interest, expertise and humour. I have received many e-mails and cards saying how much you enjoyed it all. I loved reading through all the past Newsletters to compile the 'special edition' and it emphasised what a vibrant group this is, so many activities and a wealth of knowledge in the articles.
The year really started for me with the excitement of a 'Gold' at the Malvern Spring Festival in May (watch out for the report in the The Hardy Plant autumn journal) and thanks to John for organising the team. We enjoyed outings to Spetchley gardens, Rodmarton Manor and Hookshouse Pottery and coffee mornings with Anne and John, Win and David. Our Plant Sale in June was the best yet with a wonderful selection of plants producing a record income which will ensure that we can continue to book good speakers for our meetings. The holiday to N. Yorkshire was a high point of the year too, chilly in temperature (and I brought a dreadful cold with me) but such a lovely group of fellow travellers and a warm welcome from the gardeners we visited - thanks again to David for a wonderful trip.
Another highlight has been the screening of Mick's 'Over the Garden Wall' video documentary of our own members' gardens, an insight into their garden philosophy and a look at their gardens through the year. Unlike most of the commercial TV content I do hope we will get a repeat of this show! The project also served as a reminder to me to organise some of my own garden photographs; I take lots of pictures, but rarely spend enough time enjoying them and using them to plan improvements for next year (this was something mentioned by Fergus Garrett in his talk for the anniversary day) and a task to enjoy on cold winter days.
It would be lovely to have a brilliant burst of autumn colour from the trees to see out the year. I'm really pleased with the way my late summer border has developed from new plantings of rudbeckia, asters and chrysanthemums last year, complementing hesperantha and penstemons I already had there. I feel that I am gradually extending the interest in my garden which has always had a tendency to fade after spring and early summer because of shade from trees and poor stony soil (where do all those barrow loads of compost and sacks of soil improver disappear?). I've been seduced by salvias too, so I rather hope we don't have a harsh winter.
We've got some good meetings for the winter and another celebrity lecture to look forward to next year. All I need now is a couple of extra hours each day! Happy Gardening.
… and from the Editor's Desk
After a three-year break from the Committee following a six-year term as Secretary I find myself somewhat detached from the inner workings of the Group and approach the task of assembling my first newsletter with some trepidation. Added to this is the fact that my illustrious predecessors have set a very high standard which I will struggle to maintain. But this is your newsletter, the members', and not mine. After the official notices, it is your contributions that make it such a valuable vehicle for sharing our knowledge and experience. So please use the winter months to put finger to keyboard!
Submissions can be full-length articles or just jottings, preferably as Word doc attachments but hand-written entries are also welcome. Tell us about your own garden and its development and report on progress in future issues. A highly recommended plant column could become a regular feature. You may have visited interesting gardens that others would like to hear of. Successes and failures and pests and diseases are always of interest and even Hardy Planters have a sense of humour and enjoy a garden-related joke! So I look forward to hearing from you all.
We need one more to make a century!
Membership in 2015 has shown an unprecedented increase of nearly a fifth - from 85 to 99! Why this has happened is unclear but putting on events like the Anna Pavord lecture and similar events and thus more people being aware of us and what we do could be one reason. Our twentieth anniversary celebrations in September may mean we shall be able to welcome more new members!
Additional income from subscriptions will be welcome but more importantly we have more colleagues who are interested in gardening with hardy plants.
Notice of Annual General Meeting
Notice of Annual General Meeting
to be held on Saturday 12 March 2016
at Crowle Village Hall at 2.00pm
Agenda
Apologies for absence
To receive and adopt minutes of the AGM 14th March 2015
Matters arising
Chairman's report
To receive and adopt the accounts of the preceding financial year.
To transact any other business of which at least 21 days' notice has been given.
Election of officers
Election of Committee – Please use the slip in this Newsletter to nominate someone as a committee member. Please obtain their permission first and send or give the slip to the Secretary.
Elect an independent examiner of the accounts
Group Publicity Officer
Marilyn Wrightson will be stepping down at the end of the year after six years on the Committee. Our thanks to her for all her hard work, both as Speakers Secretary and latterly as Publicity Officer. A vacancy will therefore arise for the Committee role of Publicity Officer. This requires Internet access and computer literacy.
The main duties of the Publicity Officer are to:
publicise and promote the HPS and WG using all available local media and outlets.
on a monthly basis e-mail details of the immediate forthcoming events to Bowline (local parish magazine), Worcester News (Events page), Worcester City Library e-site (worcesterlib@worcestershire.gov.uk) and Radio Hereford and Worcester gardening programme (Reg Moule).
liaise with the relevant officers at National HPS to avoid clashes with national events and ensure that the Group activities are fully reported. drawing on the local knowledge of the membership prepare a list of outlets for the display of posters and issue of membership forms etc. These will include village/shop/library notice boards, garden centres/nurseries, NGS gardens, other societies e.g. Plant Heritage and Pershore College. identify and recruit members willing to service these outlets in their vicinity. Maintain appropriate records liaise with and support organisers of special events e.g. Malvern Show etc. to ensure maximum benefit gained from HPS participation.
Please contact the Secretary of you are interested.
Shall we compost?
Remember back in April when local nurseryman Rob Cole came to demonstrate how best to grow perennials from seed? Little did I know where that talk would eventually lead me.
Rob recommended a multi-purpose compost from Petersfield Composts that he had found extremely successful – and in the following days I emailed the company to ask if Petersfield compost could be obtained locally.
I got a rapid response from their PR people identifying three local stockists. They were:
• Cassington Nurseries, Cassington, Oxfordshire OX29 4DY Tel.01865 882550
• New Inn Nurseries, Salford Priors, nr Evesham, WR11 8SN Tel. 01386 870139
• and Station Garden Nursery, Blackminster, nr Evesham WR11 7TF Tel. 01386 832698
I didn't bother with the drive to Cassington but Station Garden Nursery said they had half-bags from last season and they weren't very sure if they'd be getting any more.
So, I checked on Gardening Which? and discovered they had recently undertaken a trial of multi-purpose composts. Top of the heap came the peat-free compost from Fertile Fibre, a business based near Hereford – which reached an impressive 86 per cent rating in the trials. Second was Melcourt Sylvagrow on 84 per cent and third was Levington Original on 71 per cent.
So I contacted Fertile Fibre – who told me their compost was coir-based. "We try hard to make it better every year and we've been doing so for the last 25 years," I was told. "We're delighted to win this accolade from such a reputable source."
But the bad news is that the compost is not available from local nurseries, only direct from the company. The second bit of bad news was that if you buy just one 60-litre bag it will cost £16, a bit rich for my pocket. However, the price falls if you buy more – to £10 a bag for 20 bags and, most importantly for a group of our size, to £8 a bag if you order 55 bags.
I easily get through five or more bags of compost in an average year, so if anyone would like to join me, we could try to get up to the 55-bag mark – maybe even the 110-bag mark. I'd have them delivered to my home in Worcester and you could collect at a time to suit, perhaps with a small, voluntary donation for group funds.
The other good news is that Fertile Fibre also make a seed compost and a potting compost – and we can order the 55 bags in any combination of compost type that we choose. Fertile Fibre say they would even lay on a talk for us at their Herefordshire base should we be interested in finding out more about how they operate and what they do.
For now, if you're interested in joining in, let me know – 07739 944785/ 01905 360102 or email, or just talk to me at one of our meetings. If there's sufficient interest, we'll give it a try next year – perhaps February or March when the growing urge begins to burgeon again.
In passing, BHGS in Evesham sell the Sylvagrow compost at £5.10 for a 50-litre bag and some Worcester nurseries sell the Levington Original at around £10 for two 50-litre bags. As my mother used to say, you pays your money and you makes your choice.
20th Anniversary Celebration, 12th September 2015
The venue for the event was Pershore College, ironically the same location that saw the birth of the Group almost 20 year ago to the day. The Frank Parkinson Centre was almost filled by the 130 HPS members, some 50 of whom came from outside the Group. The first speaker was John Massey of Ashwood Nurseries, famed for its hellebores and hepaticas, the title of his talk, From Autumn into Winter.
John claimed to be 'petrified' standing before such a large audience but then proceeded to inform and entertain us for over an hour as though predestined for a life on the stage. Most of us had previously visited John's 3-acre garden adjacent to the nursery but only during the high season. John introduced us to the joys of his garden with a stunning pictorial tour from late summer through to spring. The importance of structure and hard landscaping was accentuated in the winter with the many shrubs and trees coated in hoar frost or laden with snow. John likes his architectural features from giant urns to monkey faces peering out of the undergrowth; a garden should be fun, he claimed, and his certainly betrayed his eye for a view as well as his sense of humour; his talk was interspersed with anecdotes that had members rocking in their seats. The plantings appeared flawless but, never satisfied, John continually experiments with different schemes. The talk concluded with a breath-taking series of photos of hellebore flowers to the accompaniment of uplifting background music.
Given that John claims never to have been formally educated in horticulture the breadth of knowledge he displays is quite extraordinary. Combined with his engaging personality he deserves his place up among the gardening greats of the age.
The next speaker was Fergus Garrett, Head Gardener at Great Dixter and Chief Executive of the Great Dixter Trust. The title of his talk was Succession Planting. Fergus required little introduction having already won his place in the affections of the gardening public through his 24-year association with Great Dixter and his mentor, the late Christopher Lloyd. At Great Dixter Fergus is preserving and building on the legacy of 'Christo' one of whose principal aims was to preserve the visual impact of the borders with their exuberant planting throughout the season and beyond.
After a frustrating 5-hour journey, Fergus set out at 100 miles an hour to explain and illustrate how this was achieved at Great Dixter. Plant names rattled off the tongue at a pace defying anyone to take notes. The need for creating the basic structure of the beds with permanent planting was emphasised. Early flowerers such as snowdrops, tulips, forget-me nots followed by dahlias or annuals for mid-to-late summer can then be considered as a means of extending the flowering season. Numerous examples illustrated the points and the importance of taking photographs throughout the year and keeping notes was stressed. As with John Massey, the quality of the slides was outstanding.
What became clear, however, was that this practice requires a formidable knowledge of plants and a pool of labour to match – at Great Dixter there are four gardeners, including Fergus, and a number of horticultural students. Whilst pursuing the Christopher Lloyd philosophy, Fergus, like John Massey, is not prepared to rest on his laurels and is always seeking to push the boundaries with experimental plantings. To be a student at Great Dixter must be a life-changing experience and, like a visit to the garden, something that will stay with you for a long time.
Alistair Bayford, our third speaker, introduced himself and the company, the Landscape Group, of which he is Regional Operations Director. The Landscape Group creates and manages parks up and down the country and has a huge portfolio. They were responsible for creating and subsequently managing the Queen Elizabeth Olympic Park gardens. Alistair was heavily involved in this project from its inception and for his years has acquired a maturity and depth of experience that more than qualify him for the challenges he now faces as director. His passion for plants and horticulture shine through as well as the social benefit of his work. 'Engagement' is a word we heard a number of times during his presentation. Alistair clearly engages with his work, or rather, his 'mission'. His talk was entitled Parks Matter; the Value of Parks.
The gardens, which thousands visited and admired during the Olympics, were built, like the actual Olympic venues, on a post-industrial wasteland. Alistair told the story of how those gardens were brought into being and how, post-Olympics, they were extended to become a permanent part of the urban landscape. The gardens themselves are sited in the two most socially deprived and ethnically mixed boroughs of London and the real legacy of the Games and the gardens is the provision of a haven where the community can 'engage' with plants, trees and grass and where children (and adults) can learn to experience elements of this world of which they were previously deprived. Over and above this, jobs have been created for those who might otherwise never have found work again in an age of austerity.
The landscaping and planting were impressive, not just for their scale but for their diversity; from banks of spring daffodils to wild flower meadows, from tree-lined avenues to slopes planted prairie style. Families were seen picnicking on the grass while children scaled the heights of dangerous-looking ramparts. A visit beckons.
The whole event ran very smoothly, thanks to flawless organisation. Refreshments were served throughout the day with a buffet at lunchtime. A fabulous offering of plants was provided by Avondale (Brian Ellis), Cotswold Garden Flowers (Ed Brown) and Brockamin (Margaret Stone) and sales appeared to be brisk. A commemorative newsletter had been produced tracing the history and development of the Group and a free raffle was drawn. The breaks were punctuated by lively chatter and laughter. (To say the event had a buzz would be an understatement when faced with the cacophony of sound in the College refectory.) Participants would surely agree it was a great way to mark an important milestone in the relatively short life of the Worcestershire Group and one we will all remember.
Five Minutes with … Margaret Stone
Worcestershire member Margaret, a Hardy Plant Society member since 1981, has been chairman of the HPS Geranium group for several years. She's the author of a new 62-page society book on geraniums.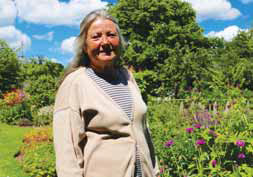 It covers more than 600 different varieties, as well as providing information on plant care, propagation and specialist nurseries. It costs £5.50 for members – and can be bought from Margaret at monthly meetings or ordered via the national website.
At her home for the past 35 years, Brockamin, in Callow End, retired chemistry teacher Margaret has national collections of Geranium x cantabrigiense, macrorrhizum and sanguineum. Mick Dunstan popped in to talk to her about her new book.
What's the appeal of geraniums, Margaret?
I suppose it starts with their appearance. I do like the look of them but they're also easy to grow – there are too many plants I've tried to grow that have died. When you plant something that succeeds, you love it, I think. They are also long-lived – I have clumps more than 20 years old in my garden – and I'm not a gardener who likes plants you have to dig up and move every few years. I don't have time to cope with plants that are a bit fussy. There's a geranium for every situation. As Margery Fish said 'If in doubt, plant a geranium.'
Why produce a new edition of the book?
The last one was 10 years old and in black and white. Things have moved on in that time so it was pretty important to be up-to-date. I started work last autumn and sent the copy to the editor on March 1 this year. It was launched at the Malvern Spring Festival in May. The aim is to help raise awareness of the HPS and it also helps to fulfil the society's charitable obligation to provide information. We hope to break even financially and we know members are our main customers. We sell to them at cost price – and non-members pay £7.50.
Why should people buy it?
Judging by my use of its predecessor, I'd say it's very useful, first of all. It's the only inexpensive, specialist book on the subject and it's good for looking things up if you see something you like. It has information from a wide range of sources and, even with the internet, this is something that's well worth sitting and reading, maybe even carrying around with you if you're looking at plants. The society has other plant books in the series and some are being updated.
The cover picture is wonderful…
I agree and it was chosen because of its glamorous quality and the fact that it shows all the different parts of the flower, not something you see with many varieties. It's by a man called John McCormack, who has a website full of plant close-ups. It's at botanicalmacro.co.uk. We also had a lot of photographs from Tim Fuller, a nurseryman in Norfolk, and some from other HPS members.
Any personal geranium favourites?
I have too many, to be honest. Everyone seems to know Geranium 'Rozanne', the RHS's plant of the century. I think it's a good plant but it's not the plant of the century for me. If you wanted me to name three varieties, I'd probably go for 'Derrick Cook' – a plant named after a nurseryman from Worcestershire – 'Ann Folkard' and 'Orion'.
Any other plants you're fond of?
Geraniums are a big interest for me – I suppose I have around 200 varieties in my garden - but I have a big interest for each season. I start with snowdrops, then it's pulmonaria, then geraniums and then it's asters. One year, I had geraniums flowering from February through to November.
Is having Plant Heritage National Plant Collections a big responsibility?
You are required to keep the plants going, to propagate them and to pass them around so it's all about conservation really. I'm thinking of adding Geranium maculatum to my collections. I'm not a nursery but I do sell plants, mainly at country markets. People can visit by appointment and I have an Open Day on October 4. I'm chairman of Worcestershire Plant Heritage and chairman of Worcestershire Country Markets, which used to be WI Markets. We have six weekly markets around the county selling cakes, jams, crafts and plants, all the things you'd expect at a WI market.
What does the HPS Geranium group get up to?
We have one committee meeting a year, two newsletters and an AGM, usually in June. It's held around the country and it's a geranium day, a study day. This year it was in Hampshire and next year it's on June 11 in Worcestershire. The gardens we'll visit are mine and John Dilks in Tewkesbury. The annual subscription is just £5.
• Other booklets produced by the society include such species as epimediums, ferns, grasses, hostas, irises and peonies.
Pests and Diseases
Vivienne McGhee would like to draw attention to a new disease, aquilegia downy mildew which has been reported, among other places, at Wisley and Kew. This was the subject of a talk to the Ranunculacae Group earlier in the year.
Fungal blight Botrytis cinerea, also known as grey mould, is also wiping out whole collections of oriental poppies. The fungus is airborne and is almost certainly a product of the mild damp winters we have been experiencing. Plants should be removed and destroyed as soon as they begin to appear distressed.
Treats in Store …
Final touches are being made to complete the line-up of speakers for our 2016 programme but details of our next Celebrity Lecture have been confirmed.
On April 9, at Pershore College, our guest speaker will be the TV presenter and garden designer Diarmuid Gavin. The best-selling author and enfant terrible of the gardening world will be talking to us on the subject of A Mischievous Life Making Show Gardens.
He'll discuss his love of gardens and his experiences at the Chelsea Flower Show, where he finally won gold in 2011 with his controversial The Irish Sky Garden, now on permanent display in the city of Cork.
Our first Celebrity Lecture was held earlier this year – as part of our 20th anniversary celebrations – when the garden writer Anna Pavord was our inspirational guest speaker. Afterwards, members voted to make the lecture an annual event. Details of ticket prices and arrangements for the sale of tickets will be announced in the next few weeks.
Another speaker to look forward to is garden writer Tim Richardson, who will be with us at our Crowle meeting on January 9. Tim, the founder of the Chelsea Fringe and writer for many publications, including The Daily Telegraph, has a new book out – Oxford College Gardens – and that's the subject of his talk.
One of the areas he considers is the 18th-century landscape school, which is represented in the magnificent acreage of, appropriately enough, Worcester College. Andrew Lawson's elegant photography is another hallmark of the new book.
February 13 is Martin Page. Martin, born in Birmingham, is a botanist, ecologist and plant photographer as well as being President of The Peony Society. The plant genus is his subject and this is a general introduction, a look at intersectional varieties and, hopefully, an informative Q&A, and all in plenty of time for your 2016 planting…
March 12 is Lark Hanham. Lark is commercial sales director of Hayloft Plants, the online nursery based in Pershore, will talk about the high-profile, family-run Worcestershire plants company, her time as a gardener at Highgrove and her love of hardy plants.