North Yorkshire Garden Tour, 2015
Sunday 21st to Thursday 25th June
On Sunday 21st June a coach full of intrepid Hardy Planters set off on a five-day tour of gardens in North Yorkshire. The following reports have been submitted by some of the participants but Becky and Douglas Dale were so inspired by the trip that they wrote on every garden, not just the final one as promised. Extracts from their account are shown in italics beneath each report. Douglas's contribution focusses mainly on the catering.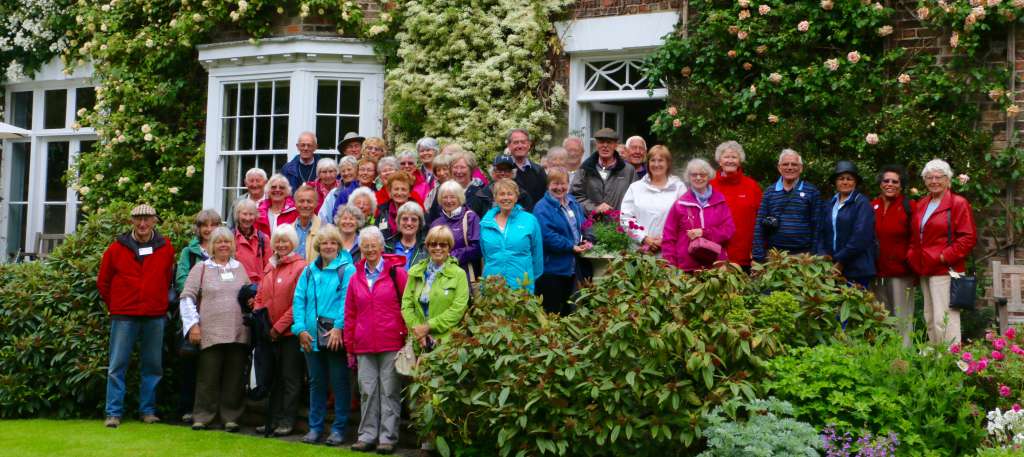 The Gardens and Nurseries
View
slide show
or click on an image below to enlarge it (opens in new window)
The outward journey to our Harrogate base was broken by visits to the gardens of two leading nurserymen, both well-known to us as speakers.
Avondale Nursery, Coventry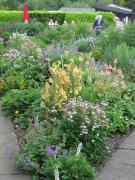 Owner Brian Ellis welcomed us to his nursery and trial/display garden. The 2/3 acre Library Garden is set on heavy clay which is dressed each year with a mulch of recycled green waste from the local council topped off with an application of pelleted chicken manure. The plants appeared to thrive on this regime and, best of all, were clearly labelled. Pencil and paper were available to enable a note to be made of those plants which members might wish to order or purchase from the nursery.
In the nursery itself the plants were all healthy, well displayed and reasonably priced. The range of genera and cultivars was quite overwhelming, not least those of the Sanguisorba, Aster nova angliae and Anemone nemerosa of which Brian holds National Collections.
There was a delicious selection of M&S's finest biscuits, cookies and fudges – perfect with coffee. An excellent start.
Dr Andrew Ward's large garden is the product of twenty year's hard labour battling with the clay soil. It is packed with interest boasting hot borders, a cottage garden style area, a plant amphitheatre, a shaded woodland section and a large pond. Andrew guided us round the garden and then did what he does so well, showing and talking us through a selection of plants currently in flower in the garden (and available for sale in the nursery).
Although helped by their respective wives you have to ask yourself how both Andrew and Brian at Avondale can manage their gardens and businesses whilst giving talks up and down the country. I wish I had half their energy!
Next stop Norwell where we had to bring our own lunch, but Andrew's wife had made some delicious chocolate and lemon sponge cakes to accompany afternoon tea and coffee. Then a short drive to Harrogate and our hotel. Good rooms. Changed and down in time to sample pre-dinner drinks organised by David. Some of the bottles found their way into dinner, where we enjoyed a good three course meal.
Magic. It started with the walk through the churchyard, with a long pause to admire the Norman doorway (complete with pretty flower arrangements) and corbels. It went on as the garden's one acre expanded into 14 'rooms' (only a few included in this report) without being bitty or muddled. It continued with pulling off the trick of abundant and varied planting in a controlled way.
York Gate is a combination of Arts and Crafts detail (although created by the Spence family between 1951 and 1994), use of high-class hard landscaping materials, imagination, supreme planting skill and a passion for shapes, especially cones and circles. The 'shapes' give a sculptural effect continued with small sculptures: a stone dolphin fountain, an old stone gatepost, another stone gatepost with a shelf big enough to perch on or rest a watering can on......others of us saw others.
The Old Orchard with its pond is the first room you see: yellow hemerocallis ('Golden Chimes'?), purple, irises dark brown and yellow, yellow shrubs, backed by the Pinetum.
Seen from the Paved Garden with its delicate circle and arc design railings, the house and tearoom are grey stone, possibly slightly grubby limestone, and it seemed you could put whatever colour you like against it: argyrocytisus battandieri and roses deep maroon and pink all looked well.
York Gate's was the first of three White Gardens on the tour and possibly the most conventional in its use of colour: white and grey. Crambe maritima, lupinus 'Gallery White Shades', white foxgloves, a stunning white peony with a cream centre, and cardoons at one corner. The Dell is a little calm green world all of its own. From the path between them, the tall mauve and cream thalictrums and pale yellow Turk's Cap lilies in the Canal Garden, and the alliums, red astrantias and deep mauve Oriental poppies in Sybil's Garden made me stop and look for a long time.
At the Old Vicarage later in the day, Biddy Marshall said that Sybil Spence had been one of her gurus: on her visits she would say 'Now, Biddy, turn round and look behind you.' York Gate compels you to do that. Magic.
Next morning we had a very ample breakfast – luckily – as York Gate our first port of call offered only biscuits in packets. It was a structured Arts & Crafts garden, so much variety in such a small plot, much photographed.
I'm not quite sure why but my gut reaction after our visit to Harlow Carr, one of the RHS's showpiece gardens in the UK, was one of slight disappointment.
We'd been promised beds full of colour and interest during our welcome introduction by one of the garden's very professional staff – and to an extent that promise was kept, but only just.
There were magnificent candelabra primulas, jaw-dropping irises in places and blue Meconopsis everywhere, that dream – or nightmare – of many a gardener, which nurseryman Bob Brown said, at one of our Worcestershire meetings this year, needs 'damp air' to thrive. I also found some beautiful, rich blue gentian-type flowers on the rockery, without a name tag to be able to identify them unfortunately.
However, my abiding memory was of too many beds and too many borders without much floral interest at all. Maybe we were there just too early in the year – not what I'd normally expect to be saying about June 22, the date of our visit. The Queen Mother's Lake end of the 68-acre site had a lovely, natural feel that I am sure will only improve in future, despite the presence of the small wind turbine.
There were newly planted areas - taped off to discourage access - which clearly demonstrate a welcome eye on the future but ultimately the place left me rather cold. It felt a little corporate and a bit soulless for my tastes.
Finally, could I make a small complaint about the level of plant prices in the site shop? There were several pots I'd have bought like a shot – a very healthy-looking Gillenia trifoliata for one - but at £8.99 or £7.99 a pot, their prices were simply too much.
Out of 10 – about a seven I'd say.
… Betty's Café where I enjoyed a focaccia roll stuffed with vegetation and protein
The Old Vicarage, Whixley
The pouring rain did not diminish the joy of entering the walled garden at the vicarage ,to be met by Biddy Marshall who related their journey from buying a wreck in 1969 to producing the most glorious quintessential English house and garden .It was a perfect month to witness the mass of roses clothing walls & arbours ,and all looking voluptuous ,and Lady Hillingdon having survived a sharp late frost tucked against a south-facing wall given all the space she needs to produce her full glory .Biddy's choice of shrubs & plants all fell into place as though they had dropped out of the sky .It was a perfect romantic, fragrant garden, a complete reflection of the warmth of welcome conveyed to us and this included a lovely cup of tea & cakes delivered on charming China tea cups in her dining room .What more could we ask for !!!

PS Lady Hillingdon is an early climbing tea rose not often seen owing to its slight tenderness.
The highlight of the day… What a tea… – a truly old-fashioned English tea with scones and jam, and a lovely light fluffy chocolate cake with a hard chocolate top… Wonderful
I love walled gardens, so was especially pleased to see that a visit to Helmsley Walled Garden was included in our trip to North Yorkshire on 23 June. The garden is wonderfully situated within easy walking distance of the town centre and under the dramatic ruins of Helmsley Castle. I visited the garden a few years after it was first opened to the public in June 1997, although I cannot remember exactly which year. However, I do remember that it was a garden in its relatively early stages of restoration, so I was keen to see how it had developed in the intervening years.
Unfortunately for us the weather was definitely not kind to us on the day of our visit. I am sure my phone registered the temperature at about 9°C – it certainly felt like it, and also it was overcast and threatening to rain. Perfect weather for a garden visit! Therefore, the coffee and cake served on arrival in the renovated Vine House, where several Victorian cultivars are grown, were much appreciated before we were given an introductory talk about the history of the garden and its restoration by Barbara, one of the volunteers who help maintain the garden. The story was not unusual. The five acre garden was first built in 1758 to supply nearby Duncombe Park, and glasshouses were added in the 19th century. There were about 20 gardeners in the 1880s, but after WWI the garden went downhill, although for many years it was the site of a successful commercial horticultural business until the 1980s. It then fell into decline until rescued by a local woman, Alison Ticehurst, in 1994 who saw its potential for revival. Apparently it took two years just to get the top off all the overgrowth, but it was finally fully planted up in 2003.
We were shown around the garden in two groups and my group, led by Barbara, first went down the hot borders which run through the centre of the garden either side of a fountain, and are backed by copper beech hedging. The borders are deep and well stocked with hardy perennials, grasses and shrubs, which are so closely packed that no staking is used. However, Barbara confirmed that the plants were late this year due to the weather. Similarly, I noted that, unlike in Worcester when I left, there seemed to be few roses out, and the peonies were behind also.
In one corner of the garden is a large kitchen garden with productive raised beds, and some community allotments. There is also an orchard, surrounding a small white garden, and fruit collection including heritage apples, many of which were bred in Yorkshire. Opposite the orchard was an area of annual wild flower meadow which was looking spectacular.
Over time most gardens change for various reasons, be it unsuitable/unsuccessful planting, maintenance issues, cost, or otherwise, and Helmsley Walled Garden is no exception. In 2005/6 changes were made to make the garden more easy to maintain, and now there are quite large areas laid down to grass, and currently the long border along the east wall is undergoing renovation. A new clematis garden was planted in 2012 together with a collection of viburnums for the clematis to grow through, which will look wonderful when fully mature.
I was delighted to hear that the garden offers therapeutic horticulture to people with a wide range of difficulties and disabilities, and employs specialist therapists to provide a structured environment to carry out varied horticultural tasks and thereby gain skills and self-confidence and a sense of well-being. I think this aspect of horticulture is vitally important and hopefully become more widely acknowledged and used. After all, we all know how good gardening makes us feel – despite what the weather has to throw at us!
Really, not another garden! Before you panic; this was not just another garden; it was the garden. They say you keep the best for last; not in this case! This garden was needed after such a cold start early in the morning.
Arriving at this rural treasure the senses were flooded; there were blocks of colour, beautifully displayed and with plants showing off their headgear; hostas boasting an almost total disregard for those pesky slimy monsters – slugs or snails.
The near white section of the garden was calming after having been welcomed by the vibrant colours of astrantias and salvias. Blocks of extravagance demonstrating the obvious benefit to the gardener – the near absence of weeds. Philadelphus nodded gently accepting the admiring glances of the southern visitors. The tall trees lording it over the edges of the wide borders beckoned the hardy planters to follow the path under the trees, allowing them to look through the gaps at the fields in the distance.
The competition from the yellow rattle in the meadow drew the attention away from the shade and the main border. They were almost shouting it out ' we are here, controlling your grasses in the meadow'. The soft naturalistic gently swaying of plants indicated that someone was determined to create a meadow that would present a haven for small animals, flying insects and birds alike. Walking to the edge of the meadow, behind a bench were the open vistas of farmland.
No time to rest because the plant hunters were ready with their purses and list to bag a plant or two. Reluctantly I left the best garden so far, thing about the number of leprechauns which would be needed to transfer this garden to my garden without the owners knowing. If only!
Hard work, dedication and determination is clearly rewarded.
Thanks for the display.
The garden was delightfully laid out, too much to see and photograph, and no time for any eats

This is a quintessentially English garden. It is the family home and garden of Vannessa Cook, lovingly planted-up over 40 years and now comprises a series of small gardens managed to be as wildlife friendly as possible. Very careful planting gives it a joyous and carefree effect. Comprising a series of small gardens, leading down to a perennial wildflower meadow and pond, the planting is romantic cottage garden style and Vannessa is proud of the fact that every part is maintained organically. Cutting back is limited and seed heads are left as food for birds and habitat for insects. This charming garden has been allowed to have its own say in how it grows and has not been rigidly orchestrated. Vannessa confides that the wonderful cottage gardens have been planted for ease of their maintenance and for their scent and colour.
But for visitors who may prefer more formal gardens Vannessa has included a rill garden with minimalistic planting.

The pond and meadow support a large number of birds and insect life as well the family's bees. This is a traditional ancient lowland hay meadow and contains plants such as Crested Dog's Tail and Lesser Knapweed which are essential for many British native butterflies and bees. Vannessa proudly announces that the meadow is also home to the rare Chimney Sweeper Moth.
Bulbs such as Camassia and Narcissus as well as hardy geraniums and species roses have been added to prolong the period of interest. Orchids are also to be seen amongst the lovely meadow grasses and plants.

The Nurseries offer many of the plants found within the garden for sale along with a particularly large selection of pulmonarias and geraniums and plants that thrive in the shade.

Homemade cakes and refreshing teas are available within the courtyard café
I had visited this nursery in 2011 and had found it very different from any other nurseries I had seen. It consists of about fifteen acres devoted to displaying around six thousand plants, all looked after by the equivalent of two gardeners. As I find plants far more interesting than garden design, I thought it was wonderful and was looking forward to seeing what changes had been made since I was last there.
The entrance to the garden was some way from the car park and the path to it was lined with perennials including some good flowering clumps of Iris sibirica cultivars and just through the gate to the gardens was a lovely display of Digitalis purpurea cultivars. John Grimshaw had complained about the plants being placed in straight rows when he visited in 2012 but this was not evident to me so perhaps the owners had taken heed of what he had said. The plants are displayed in various themed settings and if you followed the numbers on the map provided you would visit them all. There was insufficient time to do this and also there was very little out in some of the gardens so the September, Grass and Conifer, Rose Gardens and Annual Meadow were skipped and just a quick tour was made of the Peony Garden where the plants were just beginning to flower.
The June Garden and the Cottage Garden were looking very good with a great many plants in flower including nepeta, peonies, alliums, iris and geraniums. Agastache 'Cotton Candy' was very attractive plant that caught my eye and that I had not seen before. The Rock Garden, Raised Beds and Perennial Meadow were also attractive with good selection of plants flowering.
Some of the plant combinations were stunning such as a white Persicaria polymorpha with the blue flowers of Iris sibirica 'Flight of Butterflies' or a pale blue flowered polemonium in front of a black, cut leaved sambucus. The containerised Rogues Gallery was a novel way of displaying plants with thuggish tendencies. The planting in the Pond and Shade garden was worth a visit with a good display of hostas but the pool looked rather murky. I very much disliked the Fountain Garden with its patterns of coloured gravel and no plants but I suppose it appealed to some people and it certainly provoked comment.
The plants were well grown and tended, with the vast majority labelled but the labels were placed at the edge of the path, presumably to stop people trampling over the beds to read them. This was fine if you knew the genus of plant you were looking at but if you were a complete novice then the labels were not very helpful. The nursery had much the same fault as when I had visited it previously in that nearly all the interesting plants I had made a note of were not available, also they now had larger pot sizes so were more expensive. However, I was still tempted to buy several. The gardens have improved a lot since my last visit and there is a new café, although the staff had difficulty coping with the number of visitors. I do hope the owners continue to concentrate on the plants in the future.
Note: John Grimshaw's Diary is worth reading if you have not already done so.
A whole day without cake! However …yet another pre-dinner drinks party..
7 Colley Gate, Kimberly, Nottingham.
Doreen Fahey's garden was our penultimate visit of the tour. As we drove up the hill towards Doreen's house we spotted a figure waving us into a parking place marked by bollards on the side of the busy road. Dave went to greet Doreen and I ushered the group up the alley way leading to the house and garden. From my slightly elevated position the sight of so many people completely filling the lane looked amazing. Doreen's garden was prepared for visitors with many seating areas, most with tables and some covered for sitting and relaxing, even when raining. I knew where the kitchen was from our previous visit on an NGS day last year and was able to direct people to the cake ladies who had produced a wonderful selection to choose from including the best Victoria sponge I had ever eaten. There was also a wide selection of jams and chutneys made by one of the team to choose from to take home.
The garden was looking lovely, I don't think I had ever seen so many pots in one place (all that watering and where do they go in the winter?) There were plenty of plants for sale – a last opportunity to buy. Particularly popular was an unusual pelargonium called Crocodile on account of the markings on the leaves, I did manage to buy one before they were completely sold out. Apart from the flower garden there was a productive vegetable area and greenhouse. Being in a built-up area the garden was very sheltered and must have represented something more achievable than some of the grand gardens we had visited. We were escorted around the garden by the ever- present friendly cats.
There were various whimsical ornaments in the garden, quite a few of us were amused at the small swarm of knitted bumble bees suspended from one of the trees. Doreen does all the garden herself which is an achievement considering she has had some ill health over the past year. We left clutching our plants and pots of produce made by one of Doreen's friends.
cake …. So many choices to be made
What a wonderful way to spend our last afternoon! Felley Priory was indeed a stunning garden in a rural setting. I loved the rose garden, edged all round with blue and white viola cornuta – the old-fashioned type roses supported by rusty metal hoops.
The WOW-factor was supplied by a stately Cardiocrinum giganteum with 10 pale yellow flowers stained purple in the centre.
Then, walking beyond the large lily pond, I found many Dactylorhiza fuchsia – bright purple orchids, but not available for sale unfortunately. But I did buy the last Lathyrus grandiflorus which we had seen at the entrance, scrambling with rosy purple flowers.
Our final garden was Felley Priory, an absolute treasure of a garden, beautifully laid out and deemed by Spouse as best of all, a great finish. The restaurant was good too, where we enjoyed a sensible salad in the sunshine.