Newsletter
Autumn 2008
Contents
Editorial
Thank you for all the contributions. You make the editing easy when I have articles to edit. It has been Jenny Constant's wish to link the front drawing to the contents and her ambition has been realised. We have a range of articles and hopefully something to interest all. Over the last couple of years I have tried to introduce new members. There are three in this edition although I know there have been more. Those whom I have not yet met will have an opportunity in the next edition. Please remember that most of the Newsletter will also appear on the web-site and the photographs will look much better there.
I was very pleased to have several responses to my plea last year for reasons why my Crambe cordifolia had not flowered and to receive David's article on his experience. Mine has flowered this year so I suspect that the weather was the key factor for mine Moreover the leaves have not been as tatty this year and the dried out stems are still standing in November.
Copy date for the next newsletter is 20 February 2009
Chairman's Report
I was amazed to realise that it was only in May that I took on the mantle of chairman for the Worcestershire Group. So much has happened. This year is a race between the weather and the weeds. Sue D is a hard act to follow, but she gave me a fantastic committee with which to work. Our meetings have been well attended and the subject matter has been most thought-provoking. In May we had a rapid tour round Irish gardens with Dr John Page; I know that quite a few members would love to take a short trip to Ireland so I hope David P was listening. In June Graham Nicholls spoke to us on penstemons, we had a worrying moment as he arrived and we helped him carry in his alpine collection of plants for sale. A member said " I thought this was a talk on penstemons I would not have come if I thought it was on alpines" I was worried too. But we were all wrong he did speak about penstemons and his many holidays in America, generally in inhospitable terrain. I do think these speakers have very tolerant wives, it would not be my choice of holiday to scrabble round cliff tops in boiling sun for a plant sighting.
Stuart Dixon's talk on Dreaming Spires was very amusing, I was only thinking of delphiniums and Oxford so I was most impressed to realise all the other spires that fill the garden border.
Having managed the meetings we have been fortunate to have three coffee mornings and a summer party in superb gardens. It sounds rude to say they just got better and better. But they were all so impressive. David bravely held the first in June I manned the coffee table, Judy the plant stall and David tried to explain to everyone how he had turned the garden round in such a short time. Being the secretary he was able to control the weather and it was a glorious morning which certainly showed the iris off to full effect. Linda Fernyhough opened her garden in July and I am still reeling at all the perfect borders and beautiful colour schemes, yet again another direct line to the weather centre - brilliant sun in the morning. Diane and Rob opened their garden and nursery in August, the day after Gillian's day visit to Wales. (More of this later) I could not get over how neat and tidy the nursery was. All pots were very clean and the plants looked happy and healthy often with a flower on top. Having enjoyed my coffee and cake selected my plants to take home I did say to Diane it was strange not to have a garden to look round. I was corrected and then spent a happy time wandering round this amazing garden full of statues, water-courses and fabulous mixed borders. I told Rob I was depressed he said the garden should give inspiration. Gosh what talented gardeners we are privileged to have as members of the group.
David organised a most successful trip to North Wales. Luckily he gave us firm instructions not to bring much in the way of clothing as every space was required for plants saved by members. This was my first trip and I was surprised to see folks at the bus stop with small overnight bags and large cardboard boxes! We were eased into the trip with a stop at The Dingle. Barely off the coach some members were racing up and down the rows in the nursery filling trolleys. Normally it takes time to load and unload the passengers off the bus. in this case it took far longer loading the plants into the hold. We had memorable visits to Powis, Bodnant, Crug Nursery but Plas Cadnant stole the hearts of many. Even in the rain we were swept away by the enthusiasm of Anthony Tavenor, he bought the estate in 1996 and has been restoring the gardens to their former glory. The size and amount of effort required for such a project is almost incomprehensible. Luckily he did up the outbuildings first and so I can go back and stay in one of the holiday accommodation units and enjoy the experience all over again. It was a wonderful week-end David, all enjoyed it but the general feeling was to have just a little more time to make the most of the trip.
Gillian also chose to go to Wales. I believe that there is a move within the gardening fraternity towards the west. It certainly is not for the sun from the lush growth it must be the soil and the rain. We viewed two very contrasting gardens Dewston a Victorian garden lost and now being restored to its former glory. A small child's paradise, grottos, underground passages, water- course and stepping stones. All rediscovered, repaired and fully planted with only three lady gardeners. We repaired to the golf club for lunch, the arrival of so many (although warned) threw them into consternation, although our stop was slightly longer than planned, waiting with a glass of chilled white wine was very pleasant and the food was really worth waiting for. Fully replenished we headed for Veddw, quite an experience! Only one lady gardener! Anne Wareham introduced the garden to us and ended her talk by saying she loved gardens but did not like gardening, and that HPS members generally did not like her garden. Well walking round one could see why they would not like the garden. There was much emphasis on letting the plants sort themselves out, there was no such thing as a weed but after moving above the operational view the planning and ideas were breath taking.
So I shake myself and say all this has happened in four months, we are a very busy and successful society. Just wait for the next four months there is no telling what may be on the agenda. It has stopped raining so I must go and wield the machete in the undergrowth and chase the chickens out of the garden.
Rebecca Dale - Chairman
Secretary's Reminders
Subscriptions to the Group become due on 1st. January and can be paid either on the door at a meeting or by post to John McGhee at Half Acre, Main Street, Aldington, Worcs. WR11 7XB, cheques to be made payable to 'HPS Worcs. Group'. The sub remains at £12.50 and admission to meetings is free.
As anticipated, membership fell after the cost of entry to meetings was incorporated into the sub at the beginning of the year. Those who could only attend meetings infrequently opted to come along as visitors whilst others, often due to changed circumstances, no longer found themselves able to take an active role in the Group's activities and did not renew their membership.
We are an active group with an attractive venue, busy meetings, and a full programme of enjoyable outside events, all supported by an informative web site and newsletter. This combination has attracted a recent influx of new members and we must all strive to make them feel welcome. At the same time, members are urged to spread the word about the HPS and the benefits of joining a local group. I will be happy to provide information on the national HPS and enrolment forms.
David Pollitt
National & Group Membership
At the October meeting I explained that some current members who joined the Group during the latter part of 2008 will need to join the National Hardy Plant Society. For this one off occasion I have made arrangements with the Administrator to collect the national and group subscription at the same time. The combined subscription form will be available at the November and December meetings.
John McGhee
Take Heart
How often have I been to someone else's garden and come home envious and discouraged about my own. "there were no weeds.......the lawn edges were perfect........I shall put it down to concrete next week!!" Why do we put ourselves through such misery? A garden is an expression of the owner's personality -- some of us are tidier, neater and more precise by nature and although to the visitor that garden looks perfect, the tidy owner sees defects not visible to the visitor in the same way as lesser mortals do when showing someone round our beloved work of art -- which is what our gardens are and the reason for our dissatisfaction.
Take heart -- it is all comparative -- enjoy those moments when it all looks wonderful, the play of light on the border, the colours, before doubts creep in with the weeds and visitors make you cringe as you realise perfection has once again evaded you. In winter, look at those photographs you took. Why! It looks as good as Gardens Illustrated!
Delia Hargrave
Crambe cordifolia
In an earlier issues of the Newsletter Vivienne asked what plants the "East Anglian Tourists" had acquired on their trip ands also whether anyone had experience of non-flowering Crambe cordifolia. As I acquired a C. cordifolia at Beth Chatto's (I think) I can perhaps answer both questions at the same time.
Drawing on inspiration gained from some of the garden visits, I chose the site for my new acquisition with great care and planted it within ten days of our return. It was to fill a "river" of space, left after the passage of spring tulips and bluebells, between a Philadelphus aurea on one side and a Vibernum tinus on the other. At the rear of this island bed was a Vibernum rhytidophyllum to the right and a large tree peony to the left. Filling the gap to the back and providing a backdrop was an Acanthus mollis, the tall 'flower' stems of which were to be viewed through and above a foam of crambe flowers, the whole being backlit by the afternoon sun. So far so good.
Despite being planted fairly late in the season the plant put on reasonable growth and expectations for the following year ran high. As it transpired, the almost total absence of sun this year proved the least of the problems. Whilst the plant grew away quite impressively there was no sign or promise of flowers. Fine specimens were admired in other gardens but the gardener never abandons hope. The plant was only in its second season, I told myself. It wasn't yet fully established. It was screened from the sun by the Vibernum tinus that despite judicious pruning had outgrown its space. Out it came, with a struggle, and we went on holiday full of hope.
Now, it is reported that butterflies are in decline due to last year's bad summer which has almost been repeated this year. This, however, does not apply to the cabbage white. We don't normally go away in the summer and on my return I was dismayed to see the height of the grass and the other consequences of the record rainfall and high temperatures in the short time we had turned our backs on the garden. But my dismay was compounded when I gazed in disbelief at my crambe. The large leaves had been reduced to skeletons, just a framework of spines and spikes with no trace of tissue between. Meanwhile the culprit, the dreaded cabbage white, had moved on to the cleome before becoming bored and transferring its attentions to a row of radishes!
They tell us that plants are remarkably resilient. Whether my crambe will survive, only next year will tell. Meanwhile any prospect of that sugar candy burst of white flower remains a pipe dream.
David Pollitt
Having celebrated the flowering of my Crambe this year I have another problem. Is this weather related? I suspect not as I have already spoken to a couple of you about it and you have the same problem, as does the guru of plant conduct Bob Brown. Why has my Eleagnus x ebbingei "Limelight" moved? It was a very healthy plant, put in 2 years ago and last year was fine. This year the original plant has died off but healthy foliage has appeared about 2 feet away. Bob had suggested that it might be the clay soil but this is my most improved bed and it had also happened to one of you who gardens on fertile loam soil.
Any suggestions?
Editor
New Members
Chris Kehrer:
I have recently returned from Michigan, USA where I lived for 14 years. Due to the severe climate gardening was a struggle - if hostas survived the winter, come spring the deer would do a good pruning job adding tulip buds as a delicacy - if the squirrels had left any for them! The hot summers dried up grass along with all but the hardiest plants. Ponds were our main delight - digging new holes each year for 4 years.
In the Midlands again I am slowly being rekindled and grateful for the warm welcome I have found through the Worcs. Hardy Plant Group.
Marie Turner:
I'm sitting here gazing out of the window and looking for inspiration in an attempt to introduce myself to the Group, as instructed, no, requested very nicely by Vivienne. How much more inspired could I be than to indulge myself selfishly in my passion for plants? I have been enthusiastic about plants most of my life, far too long to remember, and have gardened since I was a youngster and unceremoniously cut off what I believed to be suckers from roses, in my attempt to assist an elderly neighbour who had enlisted my help despite my then ignorance in such matters. She did forgive me for cutting off new growth, and the roses went on to thrive with my avid attention -- and my neighbour's precise instruction from that point on!
I have lived in many homes over the years and nurtured many new and established gardens, but have always described myself as an instinctive gardener rather than a knowledgeable one, some things never change. I enjoy all plants and favour few. However my latest challenge has been the garden I have formed here at my home for the past four years.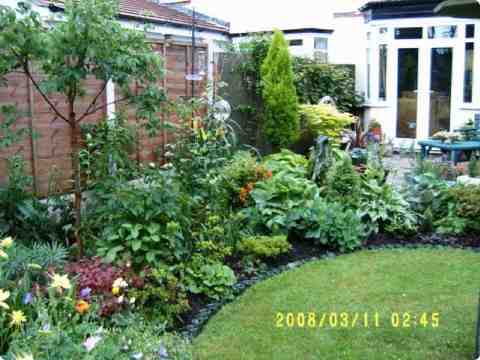 When I arrived it was an expanse of grass with a "runway" of a raised bed and two apple trees. At the top of the garden was a very old and established larch which had clearly been hacked about over its lifetime in a manner not worthy of its natural beauty, elegance and stature. I set about transforming this space as it seemed to be our "final home" -- we'll see. Though smaller than many previous gardens I have had, I feel that has made it challenging in itself. Attempts to make a smaller space interesting have proved just as rewarding as many a large plot. I feel satisfied with what is now evolving and rejoice in the beautiful spectacle that greets me each morning as I draw back the curtains.
I was cajoled into joining the HPS by a friend who is a member in her hometown on the East coast, she suggested I might enjoy mixing with like-minded folk, despite my lack of ability in retaining the names of plants I put into the ground and nurture so avidly! "It doesn't matter" she said, "that you don't know your As and Bs of the plant world, or that you have made one or two mistakes over the years, or maybe a few more". She assured me that I would benefit from the experience. So here I am and she has been quite right. Despite the trepidation of walking into a room of very knowledgeable people for the first time, I have been made to feel very welcome. I look forward to continue to garden in my own little piece of paradise and enjoy the camaraderie of those who do the same in theirs, safe in the knowledge if I don't know the answer to a gardening problem, I might know someone who does! No pressure then! Happy Gardening.
Marilyn Wrightson:
I live in Worcester and have a reasonably long 1930s suburban garden. My busy life dominated by work, house and two teenagers affords me little time to spend in my garden. Yet when I manage to get out there the garden gives me the space to relax, and regain energy, even when I am digging. My lawn may be dominated by a trampoline, tennis table and whirligig washing line but the borders are full of family and friends; all those plants that I have been given and nurtured over the years. It rewards me every day and in every season and one day I will be able to devote much more energy to the place where I love spending time.
East Anglian Booty
We set off with a small, stiff cardboard box promising ourselves to buy very little. This resolve lasted through Houghton Hall (nothing) and The Garden in an Orchard (one). This was Tradescantia 'Osprey', clear white, which we planted close to our existing tradescantia at the base of the shady part of the rockery. It has settled in well in this damper space. East Ruston provided two 'black' plants -- Aeonium 'Atropurpureum', now flourishing in a Bournemouth conservatory (we shall ask for a piece next time we visit) and Colocasia esculenta 'Black Magic' which is happy enough in our own conservatory.
The hosta from Sundown (pale, with green edges) looked a bit green in a pot at the start of the season, but with the pot moved to the sunniest, warmest angle of wall just outside the conservatory it has become almost albino. It and a hosta with the reverse variegation and Geranium maderense (both in pots) make a satisfying group.
Beth Chatto was where resolve really faltered. How to resist the possibility of a gunnera in our little garden? Gunnera magellanica is just 20 cm high; its shiny mid-green, slightly crinkled leaves remind me of a shell. With culling of epimediums and the wet summers it looks very cheerful in the deep shade under the north-facing wall of the back garden. Anemone ranunculoides 'Pleniflorum' was a rockery purchase -- about halfway up, semi-shaded. Its soft mid-yellow flowers and finely cut leaves were a delight this spring. Sisyrinchium patagonicum 'Quaint and Queer' was another plant for the rockery -- this time near the foot, on the sunny side. Its name is very apt for the not quite mauve, not quite maroon flowers with yellow centres. It's also very willing.
At the time of the trip we had plans for digging up part of the grass in the front garden, just above the basement 'area', and bought Bergenia 'Marjorie Fish' at Glen Chantry for this purpose. But after last summer when the drainage of the front garden worked very well despite a lack of actual drains we've decided to leave well alone. We dug up a small patch of grass for the bergenia anyway and very cheery it is -- the flowers are the deeper side for bergenia and the leaves, which are spoon-shaped and relatively small, do the proper thing of turning red.
Glen Chantry brought our one disaster -- our fault entirely. We planted Achillea 'Feuerland' in a sunny spot in the front garden and then forgot to make sure other more established plants didn't overwhelm it. Iris ensata 'Laughing Lion', also bought at Glen Chantry, is still in an intermediate home. As it does not like too much lime its destiny is for a smarter, larger pot, colour yet to be decided as the flower (optimism strikes) is such an arresting shade.
After that good sense (?) reasserted itself: at the other three gardens, we looked but didn't purchase.
Judith Doughty
The First Book
Taken from "Flora:seu De Florum Cultura or, a Complete Florilege furnished with all requisites belonging to a Florist" by John Rea gent. Published in 1665. Volume held in the Palfrey Library at Worcestershire Record Office.
The First Book
Fair Houses are more frequent than fine Gardens the first effected by Artificers onely, the later requiring more skill in the Owner: few gardens being found well furnished out of the hands of an affectionate Florist. The love of such a Master will keep each tender Plant alive, his care and skill hath collected: for never was any Art of Excellence liked or loved by the Ignorant, it is Knowledge that begets Affection, and Affection increaseth Knowledge. Love was the Inventer, and is still the Maintainer, of every noble Science. It is chiefly that which hath made my Flowers and Trees flourish, though planted in a barren desart, and hath brought me to the knowledge I now have in Plant and Planting: for indeed it is impossible for any man to have any considerable Collection of noble Plants to prosper, unless he love them: for neither the goodness of the Soil, nor the advantage of the Situation, will do it, without the Masters affection: it is that which animates, and renders them strong and vigorous, without which they will languish and decay through neglect, and soon cease to do him service.
So over 300 years on and nothing has changed. We learn through the sheer joy and care of our plants. Therefore, we must nurture what we have created otherwise we lose it.
Angela Downton
Random Tips
Note the Editor has no responsibility for the effectiveness or otherwise of the following:
Seedlings grown in bits of guttering are easy to slide off for planting/re-potting with minimal root disturbance.
Slugs hate seaweed -- and it is a fertiliser too.
To sow seeds evenly, punch holes in the lid of a screw-top jar and use as a shaker.
Some weeds will absorb weed-killer more readily if their leaves are damaged. This is particularly true of ivy and other shiny leaf plants.
A Roof Garden In Reading
Have I seen some of the rest, or have I another 1000 to go? One of the "1001 Gardens to see before you die" is an amazing 23ft X 98ft garden on top of the flat roof of the shop and cafe of the Reading International Solidarity Centre (RISC).
In 2001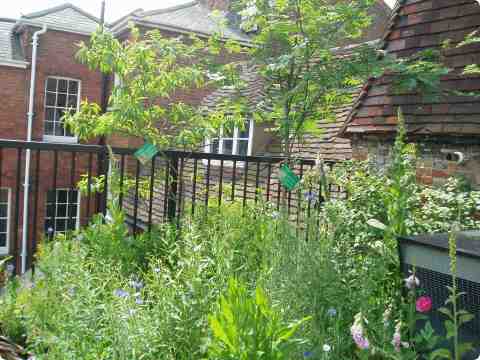 the roof needed repairing and an original approach was needed to attract local and Lottery funding. In keeping with the ecological, educational and re-cycling aims of RISC, the roof garden was planned.
The roof was water-proofed, and a drainage system installed to channel water from the roof into storage tanks. This water is then pumped back when needed - the energy being provided by solar panels and a wind turbine. Soil, to a depth of 1ft was brought in, and the "forest- planting" garden is now lush and prolific.
Several trees form the upper canopy- apple, pear, cherry and plum as well as the more unusual, including Amelanchiar lamarckii, Cydonia oblonga, Eriobotrya japonica (loquat), and Mespilus germanica (Medlar) - with the roots growing horizontally.
The next layer of tall and medium - mainly edible, fruiting shrubs included among others, Morus nigra (the black mulberry), and Ugni molinae (Chilean guava), which Queen Victoria said was her favourite fruit.
Herbaceous plants growing beneath the shrubs demonstrate medicinal uses. Inula helenium and Glycyrrhiza glabra are cough medicine ingredients. Some flowers are edible and seedheads feed the birds.
Groundcover herbs and strawberries fill in remaining spaces, while climbers such as Actinidia deliciosa (kiwi), Akebia quinata, hops and grapes cover vertical boundaries.
Composting and mulching play a big part in the upkeep of this low maintenance garden which next opens for the NGS scheme. The address is RISC 35-39 London St. Reading, RG1 4PS www.risc.org.uk Phone no. 0118 9586692. They have some other open days, and open for groups by appointment.
Sheila Webster
Agapanthus a good value plant
When I remember the Group visit to Rodmarton House in summer 2007, the image that comes to mind is of Agapanthus in pots on the terrace -- tall and architectural, with mid-blue flowers.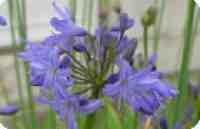 These obviously produce an embarrassing number of divisions, because you had to weave your way through the pots on the terrace, and the drive was lined with the surplus, for sale at only two pounds each. Of course I bought one!
I put it in a large pot and the strap leaves grew a lot more before autumn. As we went into winter, I insulated the pot, taking this a few inches above the rim, and put the pot against a South-facing boundary sheltered by a climber.
When I noticed that the leaves were not dying back at all, I realised that I had an evergreen species. These are from lower altitudes, and reckoned to be less hardy and tolerant of winter wet than the deciduous species. However, I resisted the temptation to fuss and left the plant where it was to see what would happen.
It was fine, but surely it was too much to expect flowers in the first summer? Wrong. It soon began to throw up interesting onion like buds and had a succession of blooms over a twelve-week period, from mid July onwards. These were followed by dramatic seed heads, and although the stalks are tall I find that they stand the wind well.
Drama over a long period, in a small space. That's what I call a good value plant -- and all for the princely sum of two pounds!
This is the first Agapanthus I have ever grown, but I did notice that a more compact white flowered plant in my neighbour's garden flowered for a much shorter period. (I spied on it shamelessly.) So perhaps I have had beginners luck?
Jenny Constant
Botanical Nomenclature
First of all, can we establish the naming of plants to be termed 'botanical nomenclature'? Rather a mouthful, but although of course, Latin plays an enormous part in plant naming, so does some Greek, many proper names etc., so the 'experts would rather refer to the task as botanical nomenclature. In the last newsletter, Vivienne started the ball rolling - so here are a few more terms/names to help you on your way.... starting with a few referring to the flower's colour:
| | |
| --- | --- |
| Albiflora | white-flowered |
| atrovirens | atro means dark, virens - green, so atrovirens - dark green |
| aurea | golden |
| flavus | yellow/green |
| glauca | blue |
| icterina | marked with yellow |
| lutea | yellow |
| phaeum | brown/swarthy |
| rubens | pink/red |
| sanguineum | blood red |
Then some useful names that refer to a plant's leaves:
| | |
| --- | --- |
| aquifolium | pointed |
| crispum | curly |
| eliptica | elipse shaped |
| glabrum | smooth/hairless |
| hederifolium | ivy-shaped |
| hirta | hairy |
| latifolia | broad=leaved |
| macrophylla | large-leaved |
| mollis | soft/tender |
| nitida | glossy |
To be continued .............................................
Ed. Thank you Jackie for putting me right and we look forward to the next list.
Jackie Davies
Where Next
A questionnaire circulated amongst the party asked members to rate their preference for weekend only tours, five-day tours, and weekend and longer tours in alternate years. The longer tours were rated third (27%) whilst no clear preference emerged between the other two options (37 and 36% respectively). Twice as many respondents opted for weekend tours running from Friday to Sunday evening however. It was felt that this made better use of the travelling time and gave more opportunity for socialising. A suggestion was also made that a future tour could take place in September, say, when different plants would be in bloom.
David Pollitt
A Poem
The tools are clean and the pots are washed
A ball of green twine so I don't get lost.
I've watched Gardeners World, got the magazine too
So I'm cutting and snipping but it all looks askew.
I need to talk to someone, so I know what to do,
Someone who won't chastise me, for not having a clue.
I needed some answers, so I went on a quest
Found a local society, they say they're the best.
They're the Worcestershire Hardy Plant Society
Full of like minded folks, who calmed my anxiety.
So don't be afraid if it all seems so new
Just sit next to me because I'm learning too.
Angela Downton
Spontaneous Plant Buying
I do try to control my purchase of plants, not because I don't have the room for lots more but because years of unplanned buying has resulted in many deaths for which I feel responsible. However somewhere, 2 or 3 years ago I bought a plant labelled as Torquatus simply because I didn't know what it was. (Another word for the nomenclature list: torquatus means adorned with a collar)
It seems to be Helleborus torquatus, a perennial plant with basal, pedate, serrated leaves that die down in the winter, described in 1884 editions of The Garden. The plant originates from Croatia, Serbia, Bosnia and Montenegro and is usually found in deciduous woods where the shade is not too dense or at their fringes as well as in scrubby areas. It was grown in Berlin in the middle of the nineteenth century and also at the University Botanic Garden at Cambridge being rescued from there during alterations by Thomas Archer-Hind who happened to be visiting at the time. I have been told that it is a controversial "species" in that there is debate over the name and it may actually disappear from official nomenclature. However it is listed in the Plant Finder and plant collectors seem to be adding to the list of the species. At least some of the confusion relating to this species can be eliminated by the realisation that in the Balkans there are two distinct groups of forms, the southern and the northern; Elizabeth Strangman examined plants in both areas and noted significant differences
It is growing well although it has not yet flowered. The flower colour should be green to violet although the colour seems to depend on the Balkan area from which the original plant was collected and whatever cross fertilisation has taken place since. They are said to grade through 1) green inside and out; 2) green with faint brown shading on the back and green inside; 3) brown on the back and green with brown stripes within; 4) purple on backs and blue-green inside with or without purple stripes; 5) purple inside and out. So I wait with interest. Does any other Group member grow this or know anything more about it?
Vivienne McGhee
Garlic Recipe (for hostas)
Crush 2 garlic bulbs
Add 2 pints water and boil for 3 minutes until blanched
Cool and strain
Make back up to 2 pints
Use 1 tablespoon per gallon of water in watering can with a rose
Pour over the leaves in late afternoon
Do this every 14 days from when shoots appear.
Use other methods until leaves open.
Source: Una Dunnett National Collection of Potted Hostas
Ed. Una is the speaker for the July meeting
John McGhee