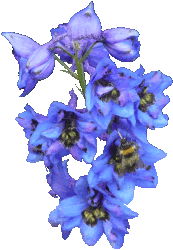 2009 Garden Tour
Dorset
In June forty-five Hardy Planters spent a long weekend visiting gardens in and around Dorset. Another fantastic tour arranged by David with a wonderful range of gardens - something for everyone. Here are some photos, and members impressions from the Autumn newsletter.
The Gardens
View
slide show
(opens in new window)
or click on an image to enlarge it
A house needs a garden and a garden is enhanced by a backdrop of mellow brickwork or stone. Of the gardens visited in Dorset, Stanbridge Mill stands out as an example of how house and garden can complement each other. But there is a third element, that of the owner. At Stanbridge Mill there was just the merest hint of an owner – Mr. Fairfax was "in residence". At Lady Farm owner Judy Pearce was not only in evidence but welcomed us warmly. She clearly felt totally at ease with both herself and her surroundings. In a self-deprecating and humorous manner she explained how she and husband Malcolm, as a consequence of a surprise house swap, overnight became not only owners of Lady Farm back in 1972 but farmers too. With livestock to manage any thought of a garden had to wait until 1990 when farming ceased and the bulldozers moved in to create the bones of the present garden.
A fundamental element of this garden is water and the chance discovery of the source of a spring enabled Judy to construct a natural rill lushly planted with moisture-loving plants. A garden like this would require several pages to review in detail and the rill, a delight to the eye, is just one of many impressions you carry away with you. The two large lakes fed by the rill could not fail to impress either as, with their naturalistic planting, they blend so perfectly with the surrounding landscape of rolling hills and woods.
Two areas of wild meadow flowers on the approach to the tearoom stopped people in their tracks too. The colours were dazzling and almost too good to be natural. This feature fitted into the sloping site more comfortably than the gravel garden, however, which to us seemed slightly out of place, set as it was into a lush hillside. That aside, there is no better way to appreciate plants than seeing them growing singly and viewed against a backdrop of gravel. You can in small measure share something of the excitement experienced by the plant hunters lighting upon a single flower peeping out amongst the rocks of some mountainside in a remote corner of the world.
The steppe garden with its prairie planting was impressive too but our admiration has since been tempered by a recent visit to Pensthorpe Wild Fowl Park in Norfolk where Piet Oudolf's Millennium Garden to us represents the most perfect example of the place for this naturalistic style of planting.
Other impressions? The crisp, geometrical precision of the courtyard garden with the two rocking chairs in the loggia from which a vista is offered of the summer house at the furthermost extremity of the garden. The bold planting in the herbaceous borders waiting for summer to display bright splashes of colour on a scale compatible with that of the garden. And Judy Pearce's daughter's splendid cakes. And Judy's engaging smile as she explains how her will always prevails over that of "the husband" in the event of a difference of opinions over some aspect of the garden.
Definitely a garden to revisit, possibly later in the year to admire the herbaceous borders and plentiful grasses.
The Pictorial Meadows
The two areas of grass-free pictorial meadows within the grass slopes near the tea-rooms were absolutely dazzling. They consisted of three beds, two of a short mixture of different annual wild and cultivated flowers and one of a taller mixture. The shorter plantings were densely sown with Fairy Toadflax, Red Flax, Californian Poppy, Convolvulus minor, Love in the Mist, Candytuft, Larkspur and Dwarf Cornflower: these would reach 30-40 cm high. The taller planting was in a single bed and the present colours were softer with plants chosen to bloom from June to November starting with blues, pinks and white developing to yellow, orange and red flowers for autumn. These included Shirley Poppy, Californian Poppy, Cornflower, Fairy Toadflax, Red Flax, Bishop's Flower, Tickseed, Corn Marigold, Black-eyed Susan, Red Orache and Larkspur and would ultimately reach 60-80 cm. The seed mixes for these plantings were developed at Sheffield University by Dr. Nigel Dunnett to provide low maintenance high impact flowering so they contain both native wild flowers and cultivated garden species of annuals.
As I was so captivated by these splashes of colour I determined to find out where I could find the seed. This proved to be very easy and I sourced the seeds without really any effort. We were due to visit The Garden Organic so while there I picked up a copy of their catalogue to find some salad seed and while looking through found the seed for the afore-mentioned plantings. Also in the gardening section of the 'Saturday Telegraph' I read an article on these colourful little meadows.
The seeds are quite expensive costing about £6.50 for 10 grams. I liked the fact that all the plants were listed with their old country names and not the botanical ones.
Suppliers: The Organic Gardening Catalogue
Our first sight on arrival at Tintinhull was of a goose house in the orchard which was a replica of the house itself – I rather liked it. It was considerably larger, though I hope a lot cheaper, than Sir Peter Viggers' famous duck house!
Tintinhull House was built in 1630 by the Napper family who owned it until the end of the 18th century. It then had a series of owners until it was bought by Phyllis Reiss and her husband in 1933. Mrs. Reiss was greatly influenced by Hidcote and went on to develop a series of garden rooms. In 1954 she gave the house and garden to the National Trust. The garden was further influenced by Penelope Hobhouse who was a tenant between 1980 and 1993.
The garden is approached through the house which is of a warm- coloured stone and down steps lined with terracotta pots simply planted with lobelia, which worked well. I felt that the hard landscaping and structure of the garden sat comfortably with the house and I liked it very much; however the planting was a different story. There had obviously been no rain for some time, the soil was dry and there was a lot of it to see. Compared to some of the gardens we were to see later in our trip the borders were sparsely planted and to be honest a bit disappointing.
The Pool Garden was probably the best of the garden rooms. It was converted from a tennis court by Mrs. Reiss in 1947 using money raised from the sale of an old cider orchard. The water lilies were coming into flower on the 'canal' which was flanked on each side by long borders, one described in the planting scheme as using strong colours and the other soft, rather than the more traditional hot and cool.
A plant in the courtyard, with oval seed heads, caused much discussion until a planting plan revealed it to be the perennial honesty Lunaria rediviva.
One of my favourite parts of the garden was the Kitchen Garden which was both attractive and functional. The paths were edged with Nepeta 'Six Hills Giant', roses, box and alpine strawberries. Captain Reiss had a passion for pears and the connection is retained by a group of espaliers at the entrance. All the vegetables were clearly named using large clear hand-painted labels made by one of the gardeners, so no grovelling on the ground to check the variety!
So did I enjoy Tintinhull? Definitely yes, it is a lovely garden with good structure but in need of a stronger planting scheme and more plants.
Stanbridge Mill, built in 1760, was in use as a working mill up to the 1950's. There was a Saxon crossing place over the River Allen at this site mentioned in the Doomsday Book. The present owner is an Australian who only spends five months of the year living here. We were shown around on our visit by the Head Gardener, who looks after everything with the help of one other. The garden is open under the NGS for just one day of the year: 950 people visited recently.
The initial design for the garden was by Arabella Lennox-Boyd, and designed as a series of linked rooms. We entered at the back of the house into a semi-formal courtyard area. Low box hedges framed beds filled with roses, delphiniums and topiary box, very Miss Jekyll. This opened out into a large lawned area. Rampant roses of 'Wedding Day' and 'Rambling Rector' scrambled 20' up trees, and from here we had the first glimpse of the river as it meandered through the garden. Many seats were around to sit and watch as herons, kingfishers and otters have been seen in the stream. Large areas of grass had been left as meadows. There was also a semi-circular double beech hedge, surrounding a large grinding stone from an Italian wine press.
Under the house the original old wooden mill wheel is still in place and several of our members went inside to have a look. A wooden bridge crosses the river at this point to enter the 'Mound Garden' behind the house - a lovely courtyard of red brick and flint paths, cherry trees underplanted, large pots overflowing with flowers. The grassy mound sited there was, I think, originally to be planted up with a box hedge spiral: the only bit I didn't like, and should like to see the 'grassy hump' go.
We then entered the swimming pool area, and it just got better and better. A beautiful pool and pavilion, six arches planted up with roses and wisteria spanned silver- and white-planted beds. High box hedges around its outside had buttresses cut into them. The maintenance here is very high - the gardener said they start to cut all the hedges in October and finish in February. A shady lawned area was beyond, high stone walls with beds up against them planted with tree paeonies, eremurus and philadelphus. Two charming statues stood in the lawn, cool and perfumed in here, a lovely atmosphere. We emerged then into a well-kept and planted kitchen garden and huge greenhouse filled with pelargoniums, ferns and orchids. How two people keep on top of this, I don't know. Do they ever sleep?
The final part was double 60' long borders under wooden pergolas, themed cool one side and hot the other. The whole garden is 50 acres with sheep grazing in the outlying fields and mown paths through the meadows. This was the largest garden we visited on this trip and my particular favourite. Each area different, lovely ideas for planting, and well maintained. How the owner can go away and leave all this for seven months of each year I shall never understand.
From talking to other Hardy Planters, ornamental grasses can elicit strong feelings. Some feel that there is no place in their gardens for a grass other than the sort that needs regular mowing! I love ornamental grasses (so thank you, David) and was looking forward to learning from this garden, as I am still very much a beginner.
Surrounded by woodland and on sandy soil, the garden had suffered from the recent cold winter and windy weather with many plants slower in coming into full growth. The Summer Garden looked particularly bare and there were signs around the garden of restructuring, clearing and replanting.
Nevertheless, there was plenty to inspire. In particular, Miscanthus sinensis ('Variegatus'?) with a purple Iris ensata, Stipa gigantea 'Gold Fontaene' with Phlomis tuberosa 'Amazone' (in the Dragon Garden), a yellow stemmed bamboo partnered with Erigeron karvinskianus and the soft yellow-green Hakonechloa macra 'Aureola' circling the base of a tree like a ruff collar. The latter grass is a favourite of Neil Lucas for shaded areas.
In the Gravel and Decennium Gardens, pennisetum varieties not yet showing their fuzzy spikes were still perfect foils for Papaver rupifragum and Thalictrum aquilegiifolium and fountains of miscanthus were inter-planted with sanguisorba, veronicastrum and Papaver 'Mrs Perry'. The Bark Circle Walk demonstrated that grasses make wonderful and versatile partners to perennials – as well as annuals, bulbs, shrubs and roses – and they look good in planters too, judging by the examples in the nursery (especially liked Eragrostis totnes 'Burgundy' in a 'Rusty Metal' container).
It was a very peaceful hour walking through the garden, with the magnificent eucalypts adding grandeur to a garden full of form, scale and texture. It was also very 'green' when compared to the colourful borders of the other gardens visited. Ornamental grasses show their best in high summer and autumn and add drama to a garden in winter. For this reason I think that Knoll Garden is definitely worth another visit during the latter half of the year to really appreciate the variety and beauty of these plants.
On arrival at Hilltop we were greeted enthusiastically by Brian Emerson and led through a small gate past the 250 year-old cottage which was adjacent to the road. A breathtaking view unexpectedly opened out before us.
The cottage originally had only a "Dorset strip" for a garden – a narrow strip of land stretching in both directions from the cottage. This was enough land for the occupants in the past to grow their vegetables and flowers for the house and keep a few chickens. Brian and Josse bought some adjacent land from the local farmer and established the present garden of about 1.5 acres over the last 10 years. They were lucky because, as Brian told us, present planning regulations in the area make turning agricultural land into a garden almost impossible.
The main feature of the south-facing garden is a large old oak tree which casts welcome shade. The winding paths took us between numerous beds bursting with plants – some unusual but many familiar. These beds, troughs, tubs, a wildlife pond and hanging baskets combine to give a sumptuous display. The original boundary hedge was replaced with a hedge on the new boundary which is kept low enough to be able to see over the surrounding farmland and Dorset Downs to the distant hills about 18 miles away.
One area is devoted to dahlias, one of their specialities. It seems odd in view of the situation that there is poor drainage, the heavy clay soil making for a wet garden and Josse told us they lifted and replanted all the dahlias each year.
After roaming round the garden we found our way into the small but well stocked nursery. A large part of this was full of pots of named dahlias, all of which were grown in the garden. There was a lack of labels in the other nursery plants but this was not a problem as Brian was able to tell us all about any plant we took to him for identification.
Tea and homemade cake served by Josse and her daughter under the shade of the oak tree gave us a welcome break from plant spotting. Altogether, a lovely garden, friendly, knowledgeable owners and an idyllic situation made for a delightful visit.
A cottage garden started in 1978 which, with well-managed woodland, extends to 3.5 acres. Attractive grey stone paths wind upwards, downwards and round about the garden giving visitors a view of the plantings from several aspects. There are stone walls, steps, banks, small pools and plants for sun, shade, well-drained and damp positions, an excellent layout. A neat vegetable garden, an orchard of young trees and plants for sale add to the experience. A delightful and interesting garden well worth a visit.
Snape Cottage is owned by Ian and Angela Whinfield and is an informal cottage garden containing traditional and many rare plants - all growing organically on a south-facing hillside with a wonderful view. Excellent soil and underground springs mean the garden has plenty of moisture. Nature conservation is the owners' main interest: their pond is full of wildlife.
Hurrah! This garden has clear plant labels, most important to Hardy Planters eager to increase their plant knowledge. Geraniums are at the front - interesting plants to come - lilies and kirengeshoma, stone troughs of alpines. A marvellous view entices one on to the picturesque garden full of treasures.
Old varieties of dianthus, including 'Charles Musgrove' are near the house. Further down are collections of amsonias including the splendid tabernaemontana, many varieties of lychnis - my favourite is chalcedonica 'Flore Pleno'. Angela and Ian also grow Potentilla 'Emile', a deep red, and Alcea cannibini ,not very often planted today. Aubretia bicolour was new to me! Among the astrantias was maxima 'Mark Fenwick', a sharp pink from Washfield. Adorning the pergola, with its shades of pink, was Aristolochiamacrophylla, whose very small yellow/green flowers carried a pink/white variegation.
Such a generous couple - Angela anxious that everyone was happy and had coffee and biscuits. Of course, her cream teas are delicious - known far and wide. Ian's photographic cards are superb and his Victorian half-hoops are marvellous, lasting a lifetime. (Competition, John? Ed.) A good time was had by all.
Our last visit of the weekend was to Abbey House Gardens, Malmesbury, famous for its owners' love of gardening naked. Fortunately (for me anyway) nudity was not in evidence. The garden lies within the precincts of the former abbey and a coffin complete with skeleton was found when the garden was being made in 1995. Mr and Mrs Pollard, the owners, have recreated the garden bearing in mind the history of the place.
The first part to be seen is the delightful Celtic Cross Knot Garden featuring plants known in the 15th and 16th centuries and my favourite part of the garden. The so-called Saxon gateway leads onto the Upper Lawn where part of a large collection of roses may be seen. Double herbaceous borders were looking good and by sloping the ground gave an impression of height. A modern water sculpture 'Thales', unexpected in such a traditional garden, stands at the end. Mr Pollard planted 2000 roses to mark the Millennium. All types, shapes and colours were in evidence and I personally felt that this was not particularly satisfactory, preferring a more restricted palette of colours. The large herb garden is next and this apparently is built to imitate a monastic one. Fruit cordons are planted round the edge and there is a central pond.
The other part of the garden is a complete contrast leading down to and along the River Avon. This area is wooded and planted with ferns, hostas and other shade lovers. Unfortunately flooding had removed quite a few plants judging by labels situated on bare ground.
Apparently the garden was badly overgrown when the Pollards moved in, in 1994, so much hard work has taken place to make such an attractive garden. It would be interesting to revisit in spring when, according to the guide book, many bulbs, etc are in full flower. A fitting end to a most enjoyable weekend.
Royal Chase Hotel