| | | |
| --- | --- | --- |
| | Members' Gardens | |
View
slide show
or click on an image to enlarge it (opens in new window)
Celia Guest, 2013
Jackie Davies, 2010
David & Judy Pollitt
These pictures of David and Judy's garden were taken in 2010/12, but there are some earlier ones from the 2008 coffee morning.
John and Hilda Watts
We have a typical 1960ís semi-detached house with a rear garden about 90 feet long by 37 feet wide. The present garden dates from 1988; prior to then, half was devoted to vegetable growing. In that year we became totally ornamental and created additional lawn and borders. At the same time an Alton greenhouse was removed in order to create more space for plants! In 2005 a Parrotia persica and a snake bark maple both some 40 years old, were taken down. The garden benefited greatly through this action.
Today you will find herbaceous borders, shrub and mixed borders, a raised bed and a rockery, all extensively planted. We have selected a wide range of plants and shrubs, and continue to pack more in. The soil will support ericaceous shrubs; our camellias and rhododendrons do well. All in all we aim for a wide variety of planting.
John and Hilda Watts
May 2010
Autumn 2014
2016
Autumn 2018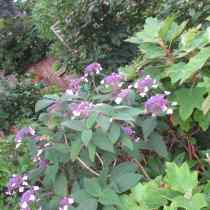 Margaret Lewis
The garden up to June 2009