2011 Days Out
Thursday 19 May - Early summer day trip to two Herefordshire gardens
View
slide show
or click on an image to enlarge it (opens in new window).
The Laskett
The Laskett Gardens were created by Sir Roy Strong and his late wife, the designer Dr Julia Trevelyan Oman. Set in a four acre triangle of land they are the largest formal gardens to have been created since 1945. A rose garden, an orchard, a kitchen garden, a knot garden, fountains and parterres, topiary, herbaceous and prairie style borders are encompassed in a series of garden rooms with views and changing levels adding further interest. Statues and other features around the garden commemorate Sir Roy's and Dr Julia's long association with and contribution to the arts.


The Old Corn Mill
Our second garden, at the Old Corn Mill, Aston Crews, is thought to date from the mid- to late-18th century. Set in 4 acres, it was bought by the present owner, Jill Hunter, in 1995. Renovation of the derelict building was designed by Mrs Hunter's son, architect David Hunter, for which he won an award for Best Conversion Renovation in the 1999 Daily Telegraph Homebuilding and Renovating competition.
The 1.5 acre garden, with a 45 foot drop from the road to the stream, was landscaped and a drive installed at the time of the refurbishment.
By contrast to the Laskett this is an informal garden. Lying in a warm, sheltered and fertile valley it is interestingly designed and planted to provide all year interest to suit the rural situation and damp conditions. There was plenty of late spring colour at the time of our visit, with a variety of form, colour and texture enhanced by the many trees, ferns, grasses and shrubs. The garden provides many suitable habitats for the local wildlife which includes water vole and otter, as well as sitting places for Hardy Planters!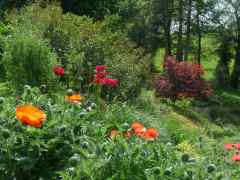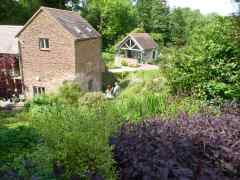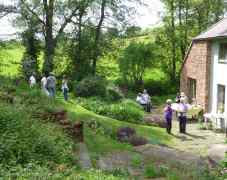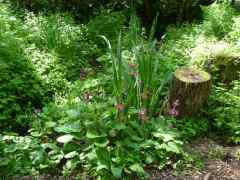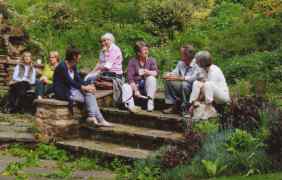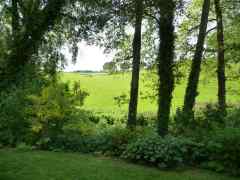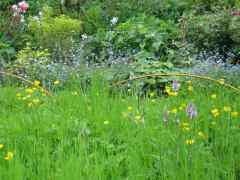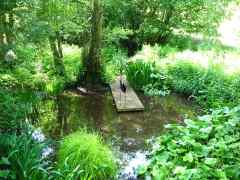 Proposed late Summer/Autumn visit to RHS Wisley
After much research and discussion it has been decided not to go ahead with plans to have a visit, by coach, to Wisley later this year.
At the moment (January) the RHS are not sure of the programme for the date that we had chosen, which would have made complications and uncertainty for booking in a coach, and probably travel difficulties as well.
Apologies to those who were looking forward to that visit, but you might like to contact Pershore College as they sometimes run day trips to Wisley during the year.
Sue Chitty