The destruction of the planet's ecosystems, including the tropical rainforests of South America for soya production and cattle, and those forests in the Far East for palm oil have resulted in massive releases of further carbon dioxide. There have also been the huge losses of carbon from our own soils arising from modern agricultural practices. Over the last 150 years, the carbon dioxide levels have increased from 270 ppm (parts per million) to 405 ppm today.
So as responsible citizens, as opposed to being merely consumers, what action might those with an interest in gardens take to reduce the impact of climate change? Here are a few ideas.
Wherever practical, plant trees. Trees will take carbon dioxide from the atmosphere and store the carbon in their branches, roots and also the soil. The leaf litter will further build the soil humus. In the long term, trees store more carbon in a given area of garden than other plants. Trees also provide shade, blossom, fruit. Trees also reduce the risk of flooding and some species can even capture particulate pollution. Minimise or avoid using power tools. This saves the emitting of carbon dioxide from the petrol or electricity, and saves money and gives you some exercise. Insist on peat free compost and in potted plants – if unsure, challenge the supplier. Half the carbon in soils in the UK is in peatland. Its removal results in further emissions of carbon dioxide, not to mention habitat. Compost your garden and kitchen organic "waste". It makes an excellent soil improver. It saves the methane emissions from landfill. Minimise the use of decking and paving. Grass will capture carbon dioxide and return it to the soil as will composted grass cuttings. Grass will also be cooler on a hot summer day. Minimise or avoid the use of fertilisers and pesticides, particularly nitrate fertilisers which result in the emission of nitrous oxide – a very powerful greenhouse gas. Consider installing green roofs on sheds, garages and flat roof extensions. They can result in home energy savings due to a cooling effect in summer and an insulating effect in winter. When attending meetings and garden visits, plan to share transport, save fuel – more emissions. You never know what you might learn chatting on the journey!
2018 plant sale
Our plant sale in June has now become an established fixture on the Group's calendar. Last year's event saw record sales boosted by the publicity gained from our participation at Chelsea and the cachet attached to the leftover 'Chelsea' plants which sold like hot cakes.
Far from being an anti-climax, this year's sale matched last year's in takings after allowing for the absence of a 'Chelsea factor'. This result was all the more gratifying after the mix-up over the hall booking.
In the event, a team of willing helpers launched themselves in to action immediately access was gained to the hall and the doors were opened to the public just 10 minutes after the originally planned time of 2 p.m.
The resulting boost to the Group's finances, amounting to just over £1,000, enables the committee to go forward with confidence when faced with the rising cost of speakers and the challenges of providing the membership with an informative and enjoyable programme of events. Thanks are due to all those who contributed to this achievement.
Worcestershire Members' Survey Results
Back in March, we started distributing a five-minute survey to all members, asking them what they think of our group and everything we do. Here's part of the summary of the findings report…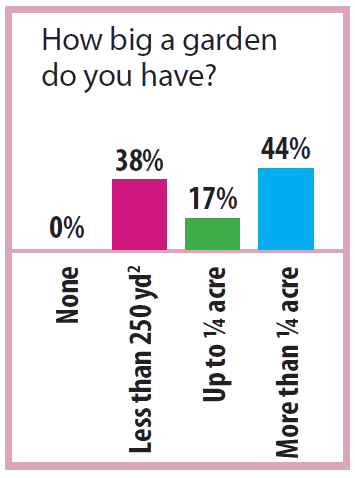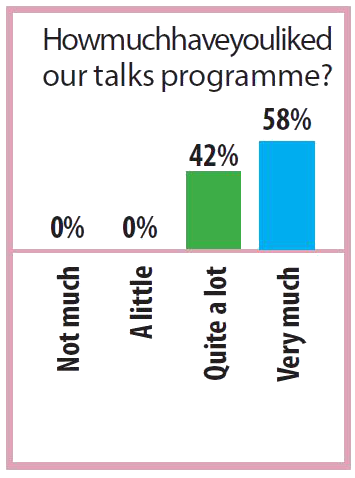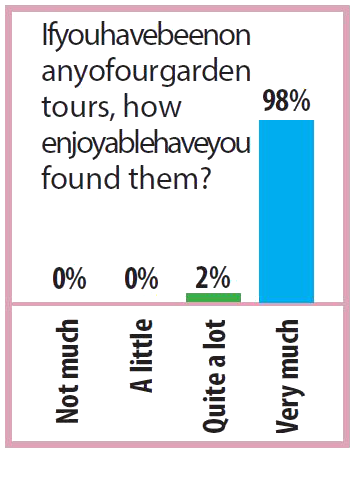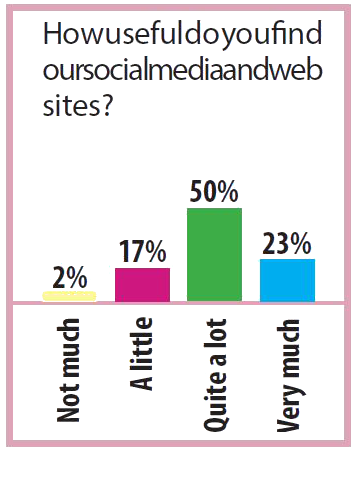 So far, so good…
We received responses from 52 of our 114 members – with all but six being returned from people who regularly attend meetings.
The happy outcome is that we now know we seem to have got it largely right for the majority of members. More than two thirds say they very much enjoy being a group member with more than 90 per cent saying they like our Saturday afternoon slot. There was an overwhelmingly positive response to our speaker programme – with 98 per cent saying they liked our programme quite a lot or very much.
We've also found out a bit more about our members too – and, as if you didn't already know it, we're a dedicated gardening group. More than three quarters of us spend more than five hours a week gardening in the growing season.
Those are the top-line responses but we said we'd let you know about all the results – so here's programme secretary Claire Constantine to guide you through the analysis…
Basic information
48 per cent of respondents have been members for more than seven years, whilst a significant proportion of 42 per cent are relatively new members of fewer than three years. A total of 81 per cent of membership is female and we have no members under 50, with most being between 70 and 80.
Our meetings
Meetings are well attended by respondents with over 90 per cent attending half or more meetings. Interestingly, members were evenly split between small and large gardens and we are a dedicated lot; 77 per cent of us spend more than five hours gardening a week in the growing season!
There are high levels of enjoyment in being a member of our group - 67 per cent very much enjoy being a member and the overwhelming majority - 92 per cent - like the Saturday afternoon slot for our meetings. Most did not want any change to the time or the length of the meetings although for some, an evening early in the week would suit. Perhaps we could consider this end of the week for our coffee mornings in future.
A significant proportion of responders were interested in starting say an hour earlier for some social time (35per cent). Perhaps we could trial this.
Our talks and speakers
There was an overwhelmingly positive rating for the speaker programme (98 per cent) with Particular plants and Gardens/design being the most popular, followed by plant care, practical and historical all of similar popularity. No one topic stood out as being unpopular, so it seems on balance that the mix of topics in the programme is about right.
There were lots of suggestions for future speakers too.
Other activities
Day coach outings to gardens are popular with members (81 per cent), the same proportion have been to a Celebrity Lecture and all have enjoyed them.
Around half of members have been on our summer garden tours and all bar one enjoyed them very much, a ringing endorsement.
About two thirds of members have recently attended a coffee morning or summer evening event which most enjoyed very much. Although six members expressed an interest in hosting a social event only one made themselves known to the committee! If you're one of the others, please contact Claire.
The discount priced compost scheme is rapidly gaining in popularity with 21 members signing up for it very quickly this year. Almost all find it quite or very useful and good value for money.
Communications
96 per cent found it very or quite easy to communicate with officers of the group. However, we don't know how the roughly half of the membership who don't attend meetings feel about this.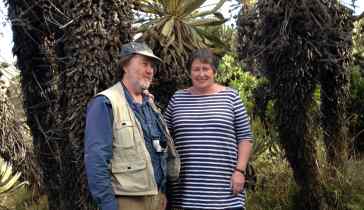 Speaker ideas… Sue and Bleddyn Jones from Crûg Farm were among your suggestions for future speakers
National and group websites are currently by far the most popular sites used by members. In response to "How useful do you find our social media and web sites?" there was a surprising spread of responses. It would be interesting to re-examine what purpose we are trying to achieve with our different sites. A total of 67 per cent visit our sites at least a few times a year. In all, 93 per cent found our tri-fold programme either quite or very useful, confirming that this is the most popular method of communication, although an overwhelming majority (91 per cent) find the local newsletter quite or very interesting; equal to the rating of the national journal and newsletter.
Most members are happy to be contacted by email although there is a significant minority who rely on post (and two nominated phone).
Twenty responders had bought seed from the national society's scheme.
Chairman Mick Dunstan said "I think there's genuine comfort for the committee to have such high ratings across so much of the work we do. I'm very pleased about that. Our next step is for the committee to take a look at areas where lower scores have been generated and to consider whether there is anything we need do to improve.
"I'd like to thank Claire and speaker secretary Stephanie Reader for the hours of work they have put in to analyse all the returned questionnaires. It's genuinely appreciated."
It Loves Me, It Loves Me Not
There are quite a few highly desirable plants that just will not grow for me, even when provided with the conditions they are said to enjoy. One such is Dictamnus alba where specimens with established and substantial root systems have failed. Another is Galena trifoliata. So, I shan't be wasting any more time or money on those. Yet there is one 'difficult-to grow' plant that I am prepared to persist with.
Some time ago, as programme secretary for the Spetchley Gardeners' Society, I arranged a tour of the gardens at Spetchley, led by the late Mr John Berkeley and Miss Juliet Berkeley. There, I was fascinated to see spreads of a bright red tulip, about 12 inches tall, with green/bronze outer petals. On enquiring I was told that this was Tulipa sprengeri, the latest-flowering tulip of all, and that they would only grow for you if they liked you. Well, they obviously liked the Berkeley family and I wanted them to like me too.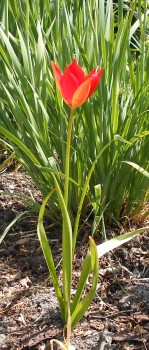 T. sprengeri were originally discovered growing on the 'Pontic coast' in NW Turkey but are now all but extinct in the wild. Named after Carl Sprenger and introduced in to Europe in 1892 by Muehlendorff of Germany they are now widely grown in cultivation. They are frost hardy down to minus 10 C but like most bulbs demand good drainage especially through the winter months.
An added bonus is that they will happily grow in the grass. They can be grown from seed at any time of the year but the seed needs to be frosted in order to germinate. Armed with this information and having been presented with some seed I set about growing them myself. The germination was good and they are still growing slowly in pots but have yet to produce a flower. It seems they can take up to four to five years to flower. I live in hope.
Last year I was given some bulbs, potted singly. I stood the pots in position around the garden only to find when I went to plant them out the next day that the squirrels had paid a visit and devoured them all. T. sprengeri have contractile roots, i.e. they pull themselves down in to the soil and can be quite difficult to dig up. I did not feel I could ask the kind donor for more.
A request in the Group newsletter, however, produced bulbs from two members. All have bloomed and thanks to their generosity I was able to enjoy the sight of their shiny green leaves and lovely star-shaped flowers for almost three weeks. As the flowers died away, copiously filled seeds pods formed. I managed to save most of the seed for autumn sowing but some has been allowed to fall to the ground which will hopefully germinate naturally. Love, love me do!
Situations vacant…
Two Committee members will be stepping down at the 2019 AGM next March. We therefore need people to volunteer for the following positions in order to continue with the administration of the group.
Both are posts that are vital to our smooth running – so please consider if you could give back something to the group and offer to help. It hardly needs saying but we cannot carry on without help from volunteers. Perfection is not what we are looking for. First and foremost, we want people who are willing to help – and you may be surprised by the satisfaction you will get in return.
If you have any thoughts or queries, please speak to Mick or any of the committee and we'll do all we can to explain the details.
Here are the main requirements for the vacancies.
SECRETARY
The main duties of the secretary are to:
Compile the agendas for Committee meetings and the AGM and to write the Minutes for these as well as being custodian of the Worcestershire Group archive. Book venues for monthly meetings, Committee meetings and the Plant Sale. Be the point of contact for the HPS National Administrator; letters, notices, Group News, Group Officer updates, annual accounts etc. and liaise with the Membership Secretary regarding new National HPS members who wish to join our group. To be the contact in the national newsletter and on the national website also for the Worcestershire group website. Attend the Group Secretaries meeting in October each year. Keep an up to date membership email address list, to send reminders about meetings and events to members. Maintain the Secretary's board for meetings with events and information of potential interest to members. Skills required: IT literacy, a friendly demeanour and an interest in people. If you are would like to know more about this role, please speak to Lyn Maile
If you are would like to know more about this role, please speak to Lyn Maile
PUBLICITY SECRETARY
This requires Internet access and computer literacy.
The main duty of the publicity secretary is to publicise and promote the HPS Worcestershire Group in the local area.
Regular tasks are:
On a monthly/bi-monthly basis send details of forthcoming events to local magazines, the Newsquest website and BBC Hereford & Worcester. Look out for new promotional opportunities. Write a brief report for local newspapers – now uploaded as a news item, preferably with a photograph. (The Community News section where reports have previously been published has been dropped by both the Evesham Journal and Worcester News and our pieces will now be competing with other news items.)
Occasional tasks are:
Promote the plant sale and celebrity lectures as above but also via the HPS Website and magazine, and to local gardening groups either directly by email or via the RHS website. Prepare posters as required for members to distribute in their locality. Send an annual list of events to "Country Gardener" as soon as is practically possible. Attend committee meetings (usually 4 per year) when possible and present or send in a brief report.
A full list of contacts and support (if required) will be provided by Jayne Savage, the outgoing publicity secretary.
It lives!
Name me a hardy planter who has yet to fall victim to the allure of some seductive beauty encountered on his travels. And lived to regret it.
That gorgeous blue Himalayan poppy seen growing like a weed in Scotland. Or that dazzling crimson azalea in a Cornish valley garden.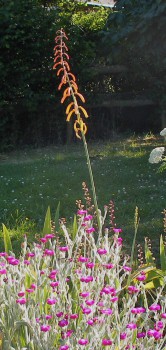 My moment came last year when I was completely bowled over by a strange kniphofia. It didn't even have a proper name. Bob Brown names it as Kniphofia thomsonii var. thomsonii but maintains that it is borderline hardy on his heavy clay. Why should I be any more successful with it? Why should a native of South Africa prosper with me? But then why was it growing profusely in a rain-soaked garden in Devon where I bought it from Keith Wiley whilst on our garden tour?
It was planted out in the garden last year and duly threw up a flower stem. So entranced was I that I sent a photo with a few lines for inclusion in the Autumn Newsletter. It received a light mulch in autumn before being subjected to some of the harshest conditions our climate can throw at us; a severe prolonged cold winter, a late spring marked by persistent heavy rain, to be followed by extreme heat and drought.
According to the pundits, kniphofias are tolerant of heat and drought but need good winter drainage. In our most low-lying island bed, the standing water earlier in the year engulfed an Astilbe superbum, a moisture-loving plant, which appears to have died away completely. Nevertheless, our kniphofia has not only survived but has bulked up and promises multiple flower stems next year. So, no regrets so far. Let's see what the next twelve months bring.
P.S. Apologies for the colour clash in the photo. It is not deliberate.
Summer Get-Togethers
This summer, members were invited to two beautiful gardens owned by our members Beverley Powlesland and Becky Dale. Our two hosts talk us through what happened…
Too much weather…
I was a commuter when there were "leaves on the line" and remember the days when "the wrong kind of snow" fell causing traffic chaos. Well this year, I think we had one of the longest and hottest summers for a while. For me, this was certainly the wrong kind of weather for my gardening year.
In September 2007, I developed heat stroke while doing my practical exams at Pershore College. This had seemed most unlikely as I spent many years in Cape Town while temperatures soared to 28°C. But I've noticed that I have "down regulated" quite a bit over the past 35 years while in the UK.
About a year ago, I agreed to host a coffee morning in July. Plans were set in motion to tidy the garden, plant up all those gaps where the rabbits had enjoyed their meals and reduce the chance of holding the national collection of weeds. But then the weather arrived. Easter weekend was very wet and the clay became too sticky to work with.
So plans were slightly delayed till May. I made some headway with weeding but plants were slow to germinate and many that germinated had a cold check around Easter and never recovered. Then June arrived with high temperatures and little rain. The cracks in the soil appeared and by the end of June were about six inches wide and widening. Worse still, the weeds were firmly anchored into the "rocks" of clay with little chance of removal. And, of course, temperatures were still at about 25°C at 9pm! My previous episode of heat stroke has made me hide inside when temperatures reach 20°C. I much prefer 8-18°C now.
Sadly, July arrived with many of the tasks incomplete. About 20 keen HPS members visited — it's quite a way to drive to our garden in Hartpury in Gloucestershire — and I am grateful for their support. Apologies for the state of the plot but this was definitely due to too much weather. I hope the teas and cakes made up for the gardening shortfall.
It's summer – and not raining!
It was with great trepidation that I looked forward to welcoming members to Thorneloe on the 4th July. After much hedge cutting and dead heading , the day arrived.
It did not rain – in fact it was very pleasant. Contrary to my thought that few would turn up, the field quickly filled up. Dishes arrived, alcohol was distributed and it was a lovely relaxing evening. It has been quite a time since the society visited central Worcester so I hoped that those who had come before could see a how the garden and the fields have matured.
When I'm in the garden, I get rather carried away. Over the years, when Douglas had returned home and there was no tea/dinner ready, my excuse was always that I did not know the time. So, he bought the clock that sits above the garden shed and has four faces on it so that there could be no not knowing the time!
The irrigation arrived when he got fed up with having to help water night after night. We had a bore hole dug just beyond the garden shed. It went down over 120 feet before we found water - rather deep for a flood plain. At first, we had direct irrigation from the hole to the beds and of course the beloved lawns. However, we chose to dig on sand so, over time, there have been blockages as the sand got into the sprinklers. We now collect the water in a large container that allows the sand to settle and the sprinklers to work happily away.
His more recent acquisition was the Gin and Tonic - or the robotic lawn mower. This plods randomly over the lawn, grazing. It really has not saved any time, since DBD has to cut the lawn regularly (due to the watering) as the mower cannot cope with long grass. It is also not inanimate because if anything is placed on its lawns, it makes a bee line to attack.
Douglas's last impulse was to get a large JCB in to get the Mount shaped up and finished. This work of art started after one of David Pollitt's coach tours to the Lady Arabella garden in the North many years ago - and has taken about 10 years to reach its zenith.
I hope you will all come back in a year or two to see what else we have managed to produce.
Malvern Memories…
It was last October when the two people who'd organised our Worcestershire HPS stand at Malvern Spring Festival in recent years both announced, within days of each other, that they would not be available for the task in 2018.
So, in the tradition of so many HPS chairmen who regularly pick up the jobs that no-one else has time for, I took on the role of Malvern organiser.
My first call was to Nicola Content, a garden lover who had helped us over the years – including at Chelsea last year. Her daughter, Emma, is a landscape designer. Nicola said she'd love to take on the challenge with Emma's help.
By New Year, the stand was designed – focusing on the idea of plant hardiness, including, believe it not, plants that were not actually fully hardy. Sacrilege, eh!
In January, the RHS unexpectedly announced they wanted our stand to reflect the show's theme of the Great Exhibition of 1851. Emma rose to that challenge too – and then the resulting, increased budget was turned down by the society's trustees at national level because, we were told, it did not represent good value for money. It was the biggest stand Worcestershire had ever created for the show – 10 metres by 3 metres.
So, we redesigned again, reducing the budget by around 50 per cent, and then we persuaded the Worcestershire Group committee to fund the missing £400 needed to create the stand. We were also able to persuade Cotswold Garden Flowers – via Bob's son Ed Brown – and Whichford Pottery to loan us wonderful plants and gorgeous plant pots for the show.
So, the planning process had not been without stress; the week of the show – from May 10 to May 13 – would continue to be testing in a number of ways.
May 6 - the Sunday before the show. A round trip of 140 miles to pick up the newly built stand from near Coventry and five large plant pots from Whichford. May 7 – to Malvern with the stand and the pots only to find our area had not been marked out and the grass had not been mowed inside our marquee. In the end, one of the stallholders went home, got his own mower and our pitch was cut as well. I left Nicola and helpers to get on with constructing the stand while I went off to Offenham to pick up around 500 plants from Cotswold Garden Flowers. Around 50 had not held their flowers or had gone over. A couple of dozen replacements were found. Oh, and I fell about three feet off the tail-lift at the back of the van onto the gravel of the Malvern show ground – grazing my left hand and elbow, not to mention bruising my left buttock rather magnificently. Off to first aid, bandages and an accident report form to fill in. This show is on the road. May 8 – to Malvern to start positioning plants in the three areas of hardiness. Back home to get a few other items – Velcro, more empty plant pots etc and a suddenly found my car had a flat tyre , which put me off the road for nearly two hours. Our part of the Malvern site was now wet and very muddy and we had to make arrangements to get bark etc so that people could come on our stand without the need for Wellingtons.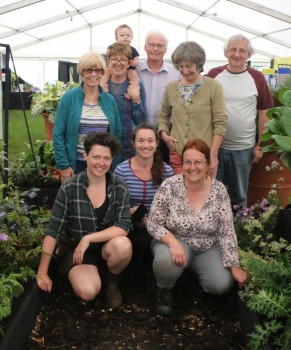 Last day of the build… all hands to the deck as the final touches to the stand are completed by, from left, clockwise, Janelle Conn, Stella Sullivan, Nicola Content and granddaughter Fern, Gordon Clark, Jan Vaughan, Graham Farquhar, Heather Farquhar and Emma Content, the stand designer.
May 9 – all hands to the deck to meet the 3pm deadline when judging was due to start. It was a hard, serious six hours of activity, aided by Lincolnshire chairman Graham Farquhar and wife Heather, who turned around from a planned visit to Hereford to lend a hand! All done by 3.20pm and we left the stand looking just lovely. May 10 – Arrived at the stand at the start of a chilly day to find we had won a silver award –a slight disappointment. We had dared to hope for silver gilt. The stand judge, Libby Russell, did us a great service by explaining why they'd awarded us a silver. We got high marks for plant quality and what they term 'endeavour' They thought the stand was elegant but our biggest shortfall, she said, was in the communication section. The information about plant hardiness had been very good but confusingly positioned. I think the saying is that you can't please all the people, all of the time. Lots of Hardy Planters call in to say hello and congratulate us. One visitor asked me what kind of wisteria twines anti-clockwise. A quick Google told me it was Wisteria sinensis. Glad to be of help. May 11 – We make a few minor signage tweaks to address the judges' comments. Lots of lovely feedback from visitors to the stand. The plants look just wonderful. With luck one of the fuschias will be in flower today. A man I was at college with – who I have not seen for 50 years almost to the day – introduced himself. What a small world, eh? The splendid specimen we have of Acanthus 'Whitewater' is, without doubt, the unashamed star of our show. Ninety nine per cent of people absolutely loved it – with one or two thinking it might have an illness. I inform them, ever so politely, that it's not ill, it's just variegated. A complaint to the Three Counties judges about the state of the ground in the marquee elicited a genuine apology from the director of operations within 15 minutes. May 12 – The busiest day by far with more than a dozen people wanting to join the society. I have to say that the Worcestershire members who volunteered to man the stand over the four days of the show this year were fantastic – friendly, smiling, approachable and happy to be there. My whole-hearted thanks to all 38 of them. May 13 – The final day and my final call to the Stockman's Café, down one of the show's back roads where the tea is delicious and the full English is truly memorable. One of our early stand volunteers had arrived at 7.30am and had the luxury of having the Floral Marquee all to herself! Of such things are memories made. At 4pm, the show bell rang, stallholders started selling off plants to the rush of humanity interested in spending their money. But we weren't selling – we just started to dismantle the stand, put the plants back in pots and the publicity literature back in its boxes. By about 6pm, we had all but finished. May 14 – A small team of helpers got half the plants and all five, precious Whichford pots back in the van and off we went to deliver them back to their natural homes. Ten and a half hours and 200 miles of driving later and the stand was no more. It was all over and I was tired. I suspect that this is not something I'd want to repeat in the near future, but the really good thing is that I managed to lose 2lbs in weight during the week - a great achievement.
UPDATE: A small team of six volunteers from three local Hardy Plant Society groups has been formed to produce next year's HPS stand at Malvern Spring Festival. We'll keep Worcestershire members up to date with developments.
Croome Visit
We were blessed with the most marvellous blue sky and sunshine for our tour of the Coadstone monuments in Croome Park. Chris Dodds, who showed us around, started with background information about Mrs Eleanor Coade, who took over a factory in Lambeth, London, making monuments and statues out of Coadstone, the formula for which remains a secret to this day.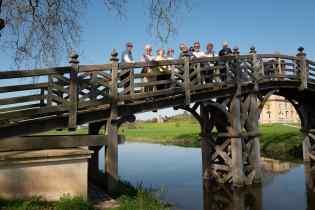 Chris took us at a steady pace around the Park, stopping to inform us which sculptures were made of Coadstone, the most famous and remarkable, I feel, being the statue of the Druid in contemplative pose; but there were several others, including grottos and sphinxes.
I have been a regular visitor to Croome over the 30 years of living in the area and slowly the improvements that the National Trust have undertaken are bearing fruit.
The evergreen walk that takes the visitor down to the lake is now well established. Chris informed us of plantings that had and had not worked in this park, which can be almost swamp like. We were able to appreciate Capability Brown's practice of hiding a 'view' until suddenly upon it, opening up vistas such as the lake, which are a delight, and keeping the House as the central focus. The spring flowers were in abundance and I had first sightings of bluebells.
Chris conveyed a picture of Eleanor Coade as a remarkable woman, who held her own, and more, in 18th century England. The fact that so little is read about her and her achievements is maybe more to do with most of history being written by men!
Thank you Chris for your very interesting walk and talk.
Cutting to the Chase
On a sunny Friday in mid May, nineteen HPS members met Duncan Coombs at Pershore College for an afternoon on the taking of softwood cuttings.
The first session was held in the classroom and Duncan gave us an overview of the process. Softwood cuttings are taken from the current season's growth before any ripening or lignification has started. We looked at timing, size of material and importance of a healthy source. Interestingly we heard that older plants are more difficult to root as their genetic material is ageing, so new cultivars are easier to propagate than older ones.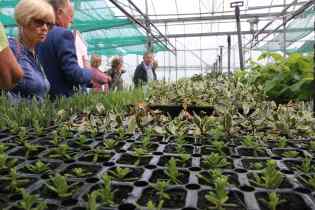 Duncan talked about the care of the cuttings once taken and the need to wean them gradually to the outdoors and not to hurry into re-potting. Feeding later in the season was recommended as the initial compost needed to be low in nutrients. We also learnt about 'winter resting buds', more of which later.
Duncan's entertaining style of presentation led to a relaxed environment, so when we moved on to the potting area we were all ready to have a go. We were asked to select a pot of established penstemon and take twelve cuttings. It was only when the task was completed that we realised that these would be grown on by the nursery, and we would not be taking them home. Some of us had also 'shared' with our neighbours, so there may be some confusion next year when these are potted on and don't match their labels!
We then moved to the misting area, where new cuttings are automatically kept in optimum conditions to encourage rooting. Finally, we walked back to the main building, looking at suitable plants for taking cuttings. Duncan explained that if the tip of the cutting material has stopped growing it forms a 'winter resting bud' which means that whilst it may grow initially it will not grow into the next season. It is therefore essential to find material which still has active growth at the tip. We were able to identify both as we walked back.
We all enjoyed the afternoon and went away enthused to take more cuttings of less usual plants.
Plants in Focus
Worcester Camera Club has recently been holding an exhibition of flower and landscape photographs at Spetchley Park, on the edge of Worcester. They have kindly allowed us to reprint these photographs taken by their membersincluding Paul Mann and Clive Haynes.
The main aim of the club, which was founded in 1890, is to encourage the enjoyment and practice of photography. They have run several photographic workshops in conjunction with the Spetchley Estate, based mainly on close-up and landscape subjects, for which the gardens are ideal.
Chairman Paul Mann explains "Spetchley Gardens provide a rich source of plant interest throughout the year as well as a background to photographing species. Our photography is not just as a record but also as an attempt to capture the essence of the plant from an artistic viewpoint. A photograph taken very close to or from a different angle can reveal details that are otherwise often unseen."
Member Clive Haynes says "For many years my wife, Gill, and I have enjoyed strolling in Spetchley Gardens, delighting in the variety and tumbling juxtapositions of the species within this informal setting. It is a very intimate garden where surprises abound bringing something fresh at each visit. "As a photographer, rather than a plantsman, my pictures are a direct response to how I interpret and represent the subject. Many of my images are 'as seen', whilst for others my approach is more artistic, involving techniques such as in-camera multipleexposure or the creation of kaleidoscopic patterns.
At all times my purpose is to extend the enjoyment of the scene and to express a feeling or visual poetry about the subject rather than to produce an illustrative record."
The club, formed in 1890, has 115 members and meets every Tuesday at Bishop Allenby Hall in Worcester from early September until the end of April.
● For full details, visit worcestershirecameraclub.co.uk